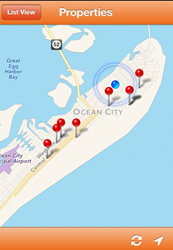 To keep up with the current trends in the vacation rental industry, it is important for vacation rental managers to reach customers on their smartphones. Our customized app is a simple and cost effective solution for vacation rental companies
Ocean City, New Jersey (PRWEB) June 15, 2017
RealTimeRental, a leading cloud based vacation rental software company, announced a special summer pricing offer on their mobile app. The iOS app, designed to help vacation rental managers display their rental inventory, will be available for $399 a year during this promotion.
"To keep up with the current trends in the vacation rental industry, it is important for vacation rental managers to reach customers on their smartphones. Our customized app is a simple and cost effective solution for vacation rental companies," said Sherry Tomasso, Co-Founder RealTimeRental.
The app displays rental information including photos, rates, availability calendars, and property amenities. All rental information is seamlessly populated into the app from RealTimeRental vacation rental software. Potential rental guests can search through properties based on availability, pricing, and number of bedrooms. The recently improved search function also allows potential renters to filter property results on select amenities such as pet friendly homes and wifi.
"One of the best features of the app is the GPS mapping. This is a useful tool for renters when they are planning their vacations because they can view a map of all available rental homes, and pick based on the area of the town they want to visit," said Tomasso.
Using GPS technology, the app determines the user's location and will display vacation rentals located in the area. The GPS mapping will drop pins for each vacation rental property which the user can click to view more information about the property.
The app is currently available for IOS devices. For more information about how Vacation rental managers are using the RealTimeRental app please visit http://www.RealTimeRental.com .
About RealTimeRental.com - RealTimeRental.com is the premier vacation rental software solution for 200+ rental offices in the United States, Caribbean, Mexico, and Costa Rica. As the first web based vacation rental system on the market in the year 2000, RealTimeRental has consistently provided a comprehensive reservation and accounting system for the past 16 years. As a cloud based application, RealTimeRental vacation rental software clients have the peace of mind that their reservation management system can be accessed 24/7 via the cloud. Additionally, RealTimeRental offers a fully integrated trust accounting package and marketing options for property managers, including a mobile app and a proprietary distribution portal, http://www.rentalretreat.com