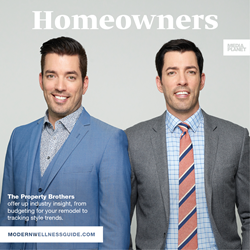 This campaign will act as a guide, providing homebuyers of all varieties with crucial information to help inform the process of finding, funding, remodeling and protecting your home
New York, NY (PRWEB) June 15, 2017
As prime home buying season approaches, Mediaplanet today announces the launch of this June's edition of "Homeowners." This campaign will act as a guide, providing homebuyers of all varieties with crucial information to help inform the process of finding, funding, remodeling and protecting your home.
The print component of "Homeowners" is distributed within USA Today, with a circulation of approximately 250,000 copies and an estimated readership of 750,000. The digital component is distributed nationally, through a vast social media strategy and across a network of top news sites and partner outlets. To explore the digital version of the campaign, click here.
Drew and Jonathan Scott are featured on the cover of the print publication. Inside, the brothers discuss the value of creating and sticking to a budget, provide tips on this season's trends and share insight into their partnership with Chase. On the digital site, readers can learn about the rising issue of homelessness among veterans and the efforts being made to combat it.
This campaign was made possible with the support of the National Association of Realtors, National Association of Home Builders, National Association of the Remodeling Industry, Mortgage Bankers Association, CNBC's Diana Olick, Operation Homefront, Chase and many more.
About Mediaplanet 
Mediaplanet specializes in the creation of content marketing campaigns covering a variety of industries. We tell meaningful stories that educate our audience and position our clients as solution providers. Our unique ability to pair the right leaders with the right readers, through the right platforms, has made Mediaplanet a global content marketing powerhouse. Our award-winning stories have won the hearts of countless readers while serving as a valuable platform for brands and their missions. Just call us storytellers with a purpose. Please visit http://www.mediaplanet.com for more on who we are and what we do.
Press Contact:
Daniel Pinkston
daniel.pinkston(at)mediaplanet.com
(646) 922-1405