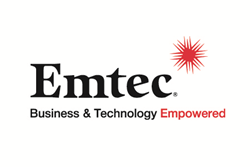 San Antonio (PRWEB) June 20, 2017
Emtec, Inc.®, an IT consultancy that enables end-to-end digital transformation, will present a Breakout Session at ODTUG Kscope2017 June 25-29 at the JW Marriott San Antonio Hill Country in San Antonio. The Emtec session titled User-Driven Allocations via Hyperion Planning will be held at 9:45 to 10:45 a.m. June 27 in the Peony room.
Kscope17 is an Oracle Developer Conference that attracts developers, administrators, architects and business users. It is sponsored by ODTUG, an independent not-for-profit global organization for the communication of Oracle technology news and updates. Registration is open at http://www.kscope17.com.
Emtec subject matter expert Bill Lowry, senior planning lead, will lead the session. He will discuss broad strokes of how Oracle's Hyperion Planning framework can be set up and configured to drive transparency into the allocation process and offer several scenarios that users may run into when setting up and calculating their allocations.
The session will cover some of the pain points that drive the need for complex allocations, the benefits of making them, and how they can be set up and run by users across the enterprise. Lowry will discuss the end-to-end allocation process, how to handle exceptions and how users can define different drivers for their various accounts.
Emtec, an Oracle Platinum Partner, is also exhibiting at Kscope, and will be available to speak with attendees about their EPM and BI needs at booth #624.
About Emtec
Emtec is an IT consultancy dedicated to helping world class organizations in the enterprise, education and government markets drive transformation and growth by employing the latest enterprise technologies and innovative business processes.
We empower our clients to accelerate innovation and deliver amazing client experiences to better compete and ultimately lead their industry. Our "Client for Life" approach is built upon over 20 years of delivering rapid, meaningful and lasting business value.
Our offerings span the IT spectrum from Advisory, Applications, Analytics and Infrastructure Services. http://www.emtecinc.com