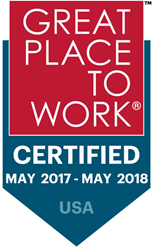 We set out every day to create a special work environment. Getting the endorsement of your people is the best reward we can think of.
Hauppauge, NY (PRWEB) June 21, 2017
Leading advertising, branding and digital marketing agency Austin & Williams announced today it has been named a "Great Place to Work" by the Great Place to Work Institute and is one of just 42 advertising and marketing companies nationwide to receive the designation. The certification makes Austin & Williams eligible for inclusion in multiple lists to be published over the next 12 months, including the revered "Fortune 100 Best Companies to Work For" and "People Magazine Companies That Care." The distinction also comes in the 25th anniversary year of the founding of Austin & Williams.
The results of an employee survey conducted by Fortune were overwhelmingly positive, with A&W's 42 team members awarding ratings of either 99 percent or 100 percent satisfaction to questions including employee recognition and culture, workplace pride, perception of agency leadership and benefits.
"We are ecstatic to be recognized with this national endorsement of the business we have worked to build: one that blends our professional drive to succeed for our clients with an environment that supports our team members," said Eva LaMere, President of Austin & Williams, which is also a Women Business Enterprise (WBE) Certified company by the State of New York. "We set out every day to create a special work environment. Getting the endorsement of your people is the best reward we can think of."
Austin & Williams also stood out in employee reviews for its commitment to a strong work-life balance, its corporate coaching program and its culture committee, which is responsible for promoting its social and community support programs for organizations including the Long Island Cares Food Drive, Dress for Success, Walks for the Arthritis Foundation, Operation Christmas Child, Make A Wish and more.
"You come to work every day wanting people to be happy – with their work, their environment and their compensation – but to see our efforts be endorsed in such a strong way is the true reward," said Rick Chiorando, CEO and Chief Creative Officer for Austin & Williams. "Whether it's bringing our dogs to work or taking an afternoon to see a child's school program, we are proud to have fostered an environment where people know they can balance work and home life."
The full Austin & Williams "Great Places to Work" profile including photos is available here. Additional images available from jodyf(at)austin-williams(dot)com.
About Austin & Williams
Austin & Williams is a full-service marketing, digital and public relations firm, creating ideas that inspire action for clients in the healthcare, higher education, financial services and professional services industries. Certified as a Women Business Enterprise (WBE) by the state of New York, the Long Island-based firm was founded in 1992 and was named one of the 100 fastest-growing agencies in the nation.
# # #