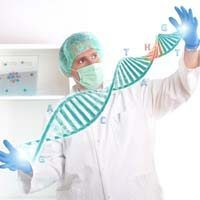 The pooled results demonstrated that BAP1 mutation was a negative indicator of overall survival...but not to malignant pleural mesothelioma.
Raleigh, NC (PRWEB) June 20, 2017
Chinese researchers say people who have mesothelioma and a mutation on their BAP1 gene are not likely to die sooner than mesothelioma patients without the mutation. Surviving Mesothelioma has just posted an article on the new research. Click here to read it now.
Doctors at Fudan University have just released their findings on an analysis of 21 different BAP1 studies including more than 2,400 patients with cancers linked to BAP1 mutations, including pleural mesothelioma.
"Although the pooled results demonstrated that BAP1 mutation was a negative indicator of overall survival and disease-free survival, this prognostic value was only applicable to uveal melanoma and clear cell renal cell carcinoma, but not to malignant pleural mesothelioma or cholangiocarcinoma," writs lead author and surgeon XY Wang.
Dr. Wang and colleagues say having a BAP1 genetic mutation does not appear to influence the clinicopathological features of mesothelioma cells, although it does impact other types of cancer cells.
"This is good news for that small percentage of patients who have both mesothelioma and a BAP1 mutation," says Alex Strauss, Managing Editor for Surviving Mesothelioma. "This study suggests that their chances for survival are just as good as any other patient fighting the asbestos cancer."
For the full details of the new BAP1 report, see The Influence of BAP1 on Mesothelioma Survival, now available on the Surviving Mesothelioma website.
Wang, XY, et al, "Tissue-specific significance of BAP1 gene mutation in prognostic prediction and molecular taxonomy among different types of cancer", June 2017, Tumour Biology
For more than a decade, Surviving Mesothelioma has brought readers the most important and ground-breaking news on the causes, diagnosis and treatment of mesothelioma. All Surviving Mesothelioma news is gathered and reported directly from the peer-reviewed medical literature. Written for patients and their loved ones, Surviving Mesothelioma news helps families make more informed decisions.