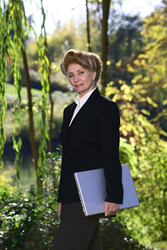 Grants Pass, OR (PRWEB) June 20, 2017
International water advocate Sharon Kleyne is always teaching. Recently, on her nationally syndicated radio program, The Sharon Kleyne Hour Power of Water, Global Climate Change and Your Health on VoiceAmerica sponsored by Nature's Tears® EyeMist®, Kleyne launched right in to the world's water crisis and how it affects the human eyes.
According to Sharon Kleyne and other leading water experts, the global water crisis is real and terrifying in its scope. "We are losing fresh surface ground water and fresh water in our aquifers," said Kleyne, "and we're dehydrating at an alarming rate." Kleyne explained that human dehydration is caused by excessive evaporation of the body's (and the eye's) water vapor.
"This natural process begins at birth," Kleyne said, "and continues until death. The moment we leave our mother's watery womb, we begin to evaporate."
Kleyne explained how the atmosphere is also constantly evaporating. Kleyne shared the sobering fact that only three percent of earth's water is fresh water, the only kind we humans can use. "We need to capture more of the fresh water as it falls," said Kleyne, "rather than losing so much of it to run-off. By capturing more of it, we'll replenish our diminishing but essential aquifers." In the same way, according to Kleyne, human beings need to replenish their evaporating body water vapor by drinking 8 to 10 glasses of water each day and regularly misting their skins with pure water.
This procedure is even more important when it comes to maintaining healthy eyes. "The eye's tear film is 99 percent water," said Kleyne. "When the eye water evaporates, dry eye disease attacks with symptoms that include redness, itching, swelling, blurred vision and headaches, to name a few," said Kleyne. If the dry eye condition goes unchecked long enough, even blindness can occur. "It's been projected," said Kleyne, "that in a few years 30 million Americans will go blind; the numbers are even higher in countries like China and India."
Kleyne explains that the best solution for eye health is to supplement the eyes on several times a day with pure water devoid of additives or chemicals. Saline solutions and conventional eye drops can provide some relief, but they can also make the situation worse. They only trap moisture on the eye; they do not replenish it. Kleyne is, of course, justifiably proud of her signature eye mist, Nature's Tears® EyeMist®, which she and her colleagues developed at the research center at Bio-Logic Aqua Research® Water Life Science®, which she founded more than two decades ago and still directs. Nature's Tears® EyeMist® is the only product on the market that is one hundred percent pure water with no chemicals or additives. Nature's Tears® EyeMist® consists of Trade Secret tissue culture grade water that is applied to the eyes by a portable, personal hand held humidifier delivering a patented micron mist spray. "Just as you need to be drinking your 8 to 10 glasses of water a day, you ought to be misting your eyes several times a day with Nature's Tears® EyeMist®," Kleyne said. "The world's water crisis is serious, but if we learn about it and act with intelligence, we can turn things around."