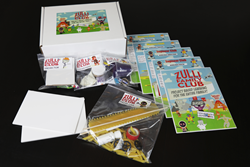 According to the U. S. Department of Commerce, STEM occupations are growing at 17%, while other occupations are growing at 9.8%.
Houston, Texas (PRWEB) June 22, 2017
Zulli Method is proud to announce the launch of their new educational and interactive subscription box called, Zulli Family Club. This learning box is delivered monthly containing four lessons, and is designed to make parents brilliant teachers in their child's eyes. Currently subscribers can choose from an Engineering or Mystery theme, but will soon be able to choose from more themes that will be designed from a STEM program. Lessons are designed for children of ages 6-12 and will be available in English and Spanish.
Brief info and a promotional video can be found at: http://www.zullifamilyclub.com
Why STEM Learning Matters
According to the U. S. Department of Commerce, STEM occupations are growing at 17%, while other occupations are growing at 9.8%. STEM degree holders have a higher income even in non-STEM careers. STEM education creates critical thinkers, increases science literacy, and enables the next generation of innovators. Innovation leads to new products and processes that sustain our economy.
What is Zulli Method?
Formed in 2014, Zulli Method is a project based learning curriculum that is used in classrooms across 5 Texas School Districts (Houston ISD, Spring ISD, Spring Branch ISD, Austin ISD and also CASE for Kids). In contrast to traditional classroom instruction, Zulli Method is delivered in a large box format with a Teacher instruction manual and project based lessons for the entire classroom. As a result, Zulli Method creates an engaging, enjoyable and personalized learning experience. Zulli Method students are empowered by this STEM based, lesson style of learning. Since inception, Zulli Method has witnessed students in participating districts regain confidence in learning, advance learning skills, and a renewed desire to achieve.
​
Western society is dominated by technology and we find more and more students to be disengaged and less likely to interact with others in a real world environment. Technology addicted children face challenges adhering to 21st Century competencies- critical thinking, complex problem solving and collaboration. The positive effect of Zulli Method was a clear testimony to Founder, Ryan Klonek. Who realized a vision to solve and prevent technology addiction while bringing the fun back to at-home learning, as a result Zulli Family Club emerged. Its greatest goal is to bring an unplugged learning experience to families around the country, if not the globe.
Zulli Family Club Subscription Box Service
Currently, Zulli Family Club offers 2 "Themes" to choose from, "Engineering and/or Mystery". Each box contains 4 hands on learning projects, "lessons". Materials, lessons, & step-by-step instructions are included so nothing else is needed! Zulli Family Club includes fascinating projects like a mystery fingerprint kit, a robot project, and so much more! Leaving children with a positive feeling about learning, all while applying principles of science and engineering. Zulli Family Club keeps parents and children so entertained, it's easy to forget they're actually learning!
What's Next...Help us Spread the Word
Zulli Family Club will be launching a campaign through Indiegogo with the goal to bring awareness and accelerate the movement of bringing educational fun to families. Zulli Family Club aims to raise funds through this platform to fund "Theme" developments, translation, bring down the cost of supplies, etc. Indiegogo's marketing team is excited about this revolutionary box and they have bowed to get behind us with their full support. But local and national awareness is needed to fuel these efforts. Indiegogo crowd funding campaign is set to launch on June 26th, 2017. A successful 33 day campaign will prompt the production of boxes in August, and the first subscription boxes are set to ship out in September, just in time for back to school supplemental learning. And as a charitable contribution, Zulli Family Club will be donating subscription boxes and lessons to families and children in need through a local charity. Zulli Family Club is still identifying the local charitable organizations to partner with for this donation.
Log on and check out the crowdfunding options on our Indiegogo campaign: http://www.zullifamilyclub.com/indiegogo/
​
To effectively and officially launch the fundraising campaign, Zulli Family Club will host a Launch Event on Thursday, June 29th at Republic Square (former Exxon Mobil Campus) located at 13501 Katy Freeway. Media and Parenting Bloggers are invited, interactive stations will also be set-up for invited parents and children attending. The event will take place from 6 pm – 9 pm, which includes a media forum from 6-7pm.
RSVP for the launch party or to request a media interview contact Magan M. Hunt, MMH International Public Relations @ 832.434.7931 or mmhcomm(at)gmail.com
External Reference Links for Zulli Family Club:
Website: http://www.zullifamilyclub.com
Indiegogo: http://www.zullifamilyclub.com/indiegogo/
Zulli Method: http://www.zullimethod.com
Follow Zulli Family Club on Social Media:
Facebook: https://www.facebook.com/zullifamilyclub
Instagram: https://www.instagram.com/zullifamilyclub