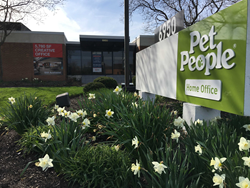 Columbus, Ohio (PRWEB) June 22, 2017
Hackman Capital Partners, LLC, announced today that two new tenants, Architectural Busstrut Corporation and BSN Sports, recently joined Pet People Enterprises at 6950 Worthington Galena Road, bringing the renovated 62,361-square-foot office/flex building to 100% occupancy. The property, the former site of Liqui Box's global headquarters, is owned by a Hackman Capital affiliate. Hackman Capital redeveloped the facility, which was originally built in the late 60s, completely modernizing the space and turning the single-tenant facility into a high-image, creative office/ flex workspace for three tenants.
"One of our specialties is repurposing buildings in viable infill markets, and this building was the perfect candidate. Worthington is a high-demand location and the property came to us with an array of valuable amenities, which we leveraged to appeal to a wide variety of today's user," said Managing Director David Smith, who oversees Hackman Capital's regional office in Columbus.
Those amenities include a robust infrastructure with heavy power, abundant parking, and ample loading, plus close proximity to 1-71, 270 and 161—benefits that are hard to find in Worthington.
"Most important, the building was flexible, which allowed us to see it creatively," Smith said. "We created large, open and collaborative work spaces with clean sight lines, high ceilings and new floor-to-ceiling windows to flood the interiors with natural light. We improved the warehouse areas with new lighting and paint. We also updated the exterior with all new landscaping to extend an inviting welcome," Smith added.
Efforts paid off. David McCorkle, the City of Worthington's Economic Development Manager, brought Pet People to the building, and in September 2016, 6950 Worthington Galena Road secured its first tenant. Pet People Enterprises, a high-end retailer of natural pet food and supplies with 40 stores around the country, was expanding its operations and leased approximately 24,000 square feet. Architectural Busstrut, a specialty lighting company, recently leased 32,551 square feet and BSN Sports, a distributor of team sports apparel and equipment leased 5,781 square feet."
According to Ben Struewing, Vice President of Leasing, Sales and Acquisitions for Hackman Capital, the company is actively seeking to purchase similar kinds of properties in the Columbus market.
"We're thrilled with the results and look forward to expanding our Midwest foothold," said Struewing. The company is focusing on industrial, commercial and infill properties that can be repositioned for higher and better uses.
Hackman Capital extends special recognition to JLL's Andy Effler, Dan Wendorf and Clayton Davis who represented the landlord in the lease transactions and Brian Douglas from Cushman Wakefield who represented BSN Sports.
MORE ABOUT HACKMAN CAPITAL PARTNERS
Hackman Capital Partners is a privately-held, real-estate investment and operating company that focuses on industrial and commercial properties in major U.S. markets. Founded in 1986, Hackman Capital has conducted more than $3 billion in real estate transactions across 41 states—having owned, through affiliated entities, over 400 buildings totaling 35-plus million square feet and 24,000 acres of developable land.
The company is based in Los Angeles, California with offices in Columbus, Ohio, Chicago, Illinois and Boston, Massachusetts. Its regional office in Columbus, Ohio oversees acquisitions and dispositions, construction and redevelopment, leasing and marketing, and asset and property management of real estate primarily in the Midwest and Mid Atlantic states. Recently, the Columbus team executed the successful sale of 67 buildings in Ohio, totaling 5.03-million square feet, across 240 tenant spaces. Currently, the team manages 35 buildings, totaling 4.9-million square feet, in Columbus, metro Chicago, Kalamazoo and Livonia, Michigan, Beech Bottom, West Virginia, Richmond, Virginia and El Paso, Texas.
Actively seeking to expand its Midwest foothold, the Columbus team is targeting industrial, commercial and infill properties that can be repositioned for higher and better uses, including creative office conversions.