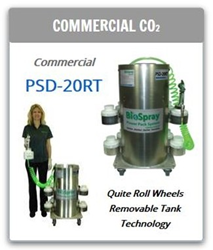 "This acquisition further enables us to provide our customers in the food and beverage production industry—and beyond—with a complete solution for their sanitation needs." - Tim Kane, CEO of Goodway Technologies
Stamford, CT (PRWEB) June 27, 2017
Goodway Technologies, a global manufacturer of innovative maintenance products, announces that it has wholly acquired the complete line of BioSpray Power Pack Systems from 1 Priority Biocidal, LLC, and distribution rights for the BioSpray D2 sanitation product. The acquisition of these products strengthens Goodway's offering of cleaning and sanitation solutions.
The line of innovative machines and chemicals includes patented technology that delivers food grade, FDA and EPA registered sanitation and disinfection solutions that eliminate the need for manual spraying and wiping while also providing a more consistent and cost effective application. This is especially important for maintaining good sanitation practices in food and beverage, healthcare and other markets. Goodway's entire line of products is designed to save time, and money while providing better results for its customers.
"We are pleased to add this innovative technology to our robust cleaning and maintenance product lines, and bring this growth to our manufacturing facility in Stamford," said Tim Kane, President, and CEO of Goodway Technologies. "This acquisition further enables us to provide our customers in the food and beverage production industry—and beyond—with a complete solution for their sanitation needs."
Goodway has been developing maintenance solutions for more than 50 years and has built a reputation for being a category-maker within the industry and delivering high-quality products.
"The vision at Goodway Technologies is well-aligned with the purpose of the BioSpray products, which is to offer an effective and efficient solution for maintenance and sanitation needs," said Dan Galloway, CEO of 1 Priority Solutions. "These products will fit in seamlessly with the wide array of maintenance and cleaning solutions and their team understands how to help customers get the job done."
For more information on the BioSpray Power Pack Systems and BioSpray D2 product, please visit http://www.goodway.com.
# # #
About Goodway Technologies
Founded in 1966, Goodway Technologies is celebrating 50 years of delivering better maintenance solutions in 2016. Goodway Technologies provides innovative maintenance solutions for a wide variety of industries including commercial and residential HVAC, food and beverage processing, power generation and manufacturing. Over the decades, Goodway has worked with our customers to create better solutions for chiller and boiler tube cleaning, cooling tower maintenance, cleaning evaporator and condenser coils, and practically everything else for the care and maintenance of HVAC systems. Further information is available at http://www.goodway.com.