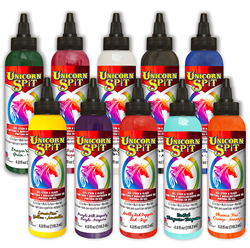 Get Multipack Pricing on All Sizes and Colors Of Unicorn SPiT from TheHardwareCity.com
Farmers Branch, Texas (PRWEB) June 27, 2017
The Hardware City now offers multiple packs of Eclectic Products Unicorn SPiT Gel Stain and Glaze. Unicorn SPiT is paint, gel stain and glaze in one. It is used by crafters, makers, hobbyists, DIYers and pros too.
"We are happy to announce we have added both 4 and 8 oz sizes of all 10 original colors of Unicorn SPiT to our store as multiple packs," said Sumesh Bhagat, of TheHardwareCity. "And with reduced pricing and shipping now included on the multi-packs, we provide our customers options to decrease expenses on many projects."
Unicorn SPiT penetrates deep into the bare wood grain or glazes over existing finishes, brightens and highlights chalk paint and provides a 3-D dimensional effect. Can be used as a paint or diluted with water to create a gel, glaze, stain, white wash or antiquing tint.
Use Eclectic Products Unicorn SPiT as a paint, gel or stain on most any material. Works on wood, glass, metal, fabric, pottery, concrete, laminate, wicker and most other substrates. Can be used indoors and outdoors.
For more information on Eclectic Products Unicorn SPiT, visit our online store http://www.TheHardwareCity.com.
The Hardware City is an online hardware store offering high quality tools and hardware items at reasonable prices. Headquartered in Farmers Branch, Texas, the online enterprise is dedicated to helping consumers select the best quality tools and hardware for their various projects.
TheHardwareCity.com is a leader in home improvement supply. Since 2007, the online hardware store has expanded and grown to include thousands of innovative products. Products from every department are included in their catalog, from electrical to bath accessories. Experts are available to answer questions about any product through the website's online chat or by phone. Visit http://www.thehardwarecity.com/ to view the latest in home improvement products and to take advantage of the company's low prices.