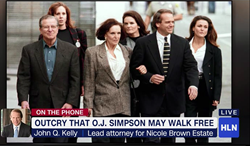 Greenwich, CT (PRWEB) June 27, 2017
John Q. Kelly, Esq., joined Ashleigh Banfield on HLN Network to discuss whether OJ Simpson should be paroled from prison next month after serving nine (9) years on his convictions for kidnapping, robbery and other crimes in Las Vegas, Nevada.
See full interview here at: https://www.youtube.com/watch?v=5T3WWo-_ubQ
About John Q. Kelly
Subsequent to his landmark verdict as lead attorney for the Estate of Nicole Brown Simpson in its wrongful death action against O.J. Simpson, John Q. Kelly continues to successfully handle matters that receive national and international coverage, and has a reputation as a meticulous, no-nonsense litigator, schooled in the nuances of physical, forensic and circumstantial evidence, battle-tested in the courtroom on countless occasions, and seasoned by 30 years of deftly interacting with the media.
About Ivey, Barnum & O'Mara, LLC
Mr. Kelly is a partner at Ivey, Barnum & O'Mara, LLC, a general practice law firm which was established in Greenwich, CT in 1950. It is the largest Greenwich-based law firm, with more than thirty attorneys, and additional offices in New Canaan, CT and New York City.
Visit our websites at http://www.ibopersonalinjurylawyers.com and http://www.ibolaw.com.