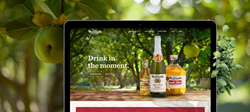 We view Martinellis.com and our social media programs as powerful tools to engage with our consumers
Watsonville, California (PRWEB) July 11, 2017
S. Martinelli & Company, the leading producer of award-winning apple juice and sparkling cider since 1868, is proud to announce the launch of the new Martinellis.com. The website was redesigned and developed in a close working relationship with Mindgruve, its agency of record.
The core opportunity was to modernize the brand online while maintaining its rich and unique heritage. The new Martnellis.com website has been redesigned to connect with both the savvy Millennial and discerning Mom with authentic, engaging stories about the Brand's history, unparalleled production process and gold medal winning delicious taste.
The website is now fully responsive, meaning it adapts based on the size of users' screens across desktop and mobile. It also features an interactive timeline, a newsletter affectionately known as "The Pippin" and a content-rich blog full of recipes, DIY ideas and company news.
Vice President and Chief Financial Officer Gun Ruder concluded, "The new website meets our high standards and will support our ongoing efforts to build the Martinelli's brand. We view Martinellis.com and our social media programs as powerful tools to engage with our consumers and celebrate our 150th Anniversary in 2018."
About S. Martinelli & Company
S. Martinelli & Company, a family-owned business in Watsonville, California, has been producing award-winning apple juice and sparkling cider since 1868. For more information, visit http://www.martinellis.com.