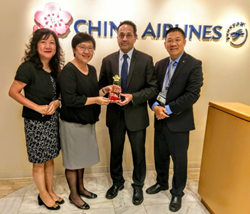 New York, NY (PRWEB) June 28, 2017
Fareportal, a leading travel technology company, was recently awarded the 10 Million Dollar Sales Award from China Airlines recognizing outstanding sales performance by the company's CheapOair and Travelong brands. This award is given annually to acknowledge the top sellers of China Airlines tickets over the past year.
China Airlines operates non-stop flights to Taipei from five North American gateways including Los Angeles, San Francisco, New York, Vancouver and Honolulu.
"We are extremely delighted receive the 10 Million Dollar Sales Award from China Airlines," said Sanjay Hathiramani, Global Senior Vice President of Supplier Relations at Fareportal. "This is a testament of the strong relationship we have with China Airlines. At Fareportal, we continue to invest in our staff, products, and technology and in doing so, we are developing a highly acclaimed next-generation travel concierge experience."
"We team together like tail stabilizers to a plane to complete the details of an excellent passenger experience," said Shirley C.H. Yang, General Manager Eastern USA at China Airlines. "This 10 Million Dollar plaque is presented with the respect and gratitude of China Airlines. We appreciate Fareportal's continuous support and dedication and look forward to reaching new heights of achievement."
About Fareportal
Fareportal is a travel technology company powering a next generation travel concierge service. Utilizing its innovative technology and company owned and operated global contact centers; Fareportal has built strong industry partnerships providing access to over 450 airlines, 1 million hotels, and hundreds of car rental companies that serve millions of customers every year around the globe. With a portfolio of consumer travel brands, including CheapOair and Travelong, Fareportal's airline partners can benefit from access to a broad customer base that books high-yield international travel and add-on ancillaries.