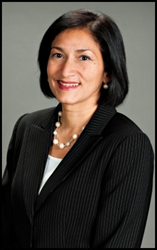 "It has been an honor to serve as chair of the Hispanic/Latino Division of this very active, prolific, and prestigious organization," said James Scott Farrin Personal Injury Attorney Anabel Rosa.
Durham, NC (PRWEB) July 13, 2017
James Scott Farrin Personal Injury Attorney Anabel Rosa recently received recognition for her outstanding service chairing the Hispanic/Latino Division of the North Carolina Advocates for Justice (NCAJ). She also received the NCAJ service award for 2017 and 2015.
Rosa, a native of Puerto Rico, is a prolific community and civic volunteer, activist, spokesperson, and advocate for Durham's Hispanic/Latino community, and currently serves as chair to the City of Durham's Mayor's Hispanic/Latino Committee.
Rosa said of her work chairing NCAJ's Hispanic/Latino Division:
"It has been an honor to serve as chair of the Hispanic/Latino Division of this very active, prolific, and prestigious organization. To head such a dedicated group is truly humbling, and I am sure that I learned from my colleagues much more than they learned from me."
Under Rosa's leadership tenure of the Hispanic/Latino Division, the NCAJ has been able to provide two citizenship clinics and two power-of-attorney clinics for people who may be at risk for deportation. She was also part of the driving force of NCAJ's new immigration division and efforts to help many Hispanics and Latinos update legal documents pro bono. She is also a member of the NCAJ's Diversity Committee.
Rosa has participated in the Special Populations Subcommittee for the Partnership for a Healthy Durham, which is a collaborative network of healthcare professionals who promote health and medical treatment options throughout the Hispanic/Latino community. She continues to support Real Durham, an anti-poverty program targeting the East Durham Economic Development Zone, which has a large Hispanic/Latino population.
For four years in a row Rosa volunteered with the National Association of Latino Elected and Appointed Officials (NALEO) and with Durham's El Centro Hispano, helping out pro bono in immigration clinics.
The Law Offices of James Scott Farrin places great emphasis on North Carolina's roughly 1 million Hispanic/Latino residents and has more than 35 bilingual staff to help serve this community. Rosa helped spearhead the firm's Latino Affairs Committee, along with Social Security Disability Attorney Rick Fleming who is a James Scott Farrin shareholder. Fleming, who is the committee lead, said of Rosa's most recent achievement:
"Anabel has been extremely instrumental in our firm's efforts to reach and advocate for our Hispanic neighbors. She has a real passion for service to this community and drive to spearhead the numerous efforts on behalf of our firm and within the greater Durham community. She and I have sponsored multiple immigration workshops together with NALEO, El Centro Hispano, Univision 40, and NCAJ, with the goal to assist those in our community to become citizens of the U.S.A."
When the Hispanic media seek comments on issues related to this community, Rosa has been a resource, appearing on El Centro Hispano, Univision 40, WRAL, and quoted in several Spanish publications.
Moreover, Rosa is part of the core leadership for and has taught in an ESL program for more than five years with volunteers from local churches. Additionally she serves on the Diversity Committee at Durham Academy.
Each year the Law Offices of James Scott Farrin honors an employee with its "Social Services Award" for extraordinary work within the community. Rosa received this award in 2014 for her diligent service to Durham's Hispanic/Latino community.
ABOUT NORTH CAROLINA ADVOCATES FOR JUSTICE
NCAJ and its 3,000 members is a nonpartisan association of legal professionals dedicated to protecting people's rights through community, education, and advocacy. NCAJ provides continuing legal education for lawyers and other legal professionals aimed at enhancing the quality of the legal profession, offers public education programs and resources aimed at improving access and understanding of the legal system, supports the writing of amicus briefs for the appellate courts, and advocacy work at the legislature in the areas of criminal and civil justice. The third largest Trial Lawyers Association (TLA) in the nation, NCAJ has served its members for over 50 years.
ABOUT THE LAW OFFICES OF JAMES SCOTT FARRIN
The Law Offices of James Scott Farrin is headquartered in the American Tobacco Historic District, adjacent to the Durham Bulls Athletic Park, in Durham, North Carolina, with 13 additional offices statewide in Charlotte, Fayetteville, Greensboro, Greenville, Goldsboro, Henderson, New Bern, Raleigh, Roanoke Rapids, Rocky Mount, Sanford, Wilson, and Winston-Salem. The firm's 43 attorneys focus on the following practice areas: Personal Injury, Workers' Compensation, Social Security Disability, Eminent Domain, Intellectual Property, Civil Rights, Mass Torts, and Products Liability. Seven of the attorneys are North Carolina Board Certified Specialists in Workers' Compensation Law and one is a North Carolina Board Certified Specialist in Social Security Disability Law. The Law Offices of James Scott Farrin is involved in the community, including sponsorship of local philanthropic organizations.
Contact Information:
David Chamberlin
280 S. Mangum Street, Suite 400
Durham, NC 27701
866-900-7078
http://www.farrin.com