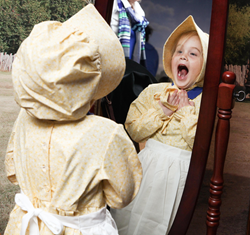 Brenham, TX (PRWEB) June 29, 2017
It was March 2, 1836 when 59 delegates bravely met at Washington, Texas to make a formal declaration of independence from Mexico. From 1836 until 1846, the Republic of Texas proudly existed as a separate nation. Washington on the Brazos is, indeed, "Where Texas Became Texas."
Washington on the Brazos State Historic Site has many onsite amenities open daily, as well as an incredible schedule of events and programs. On the grounds of this 293-acre, TPWD-run state park is Independence Hall (the site in 1836 where the representatives met to write the declaration of independence); The Star of the Republic Museum (collections honoring the history, cultures, diversity and values of early Texans; administered by Blinn College); and Barrington Living History Farm (where interpreters dress, talk, work and farm as the earliest residents of the original farmstead did).
The site's Visitor Center features interactive exhibits which present a timeline of the Texas Revolution and highlight the historic attractions located within the park; it also houses the spacious Washington Emporium Gift Shop, which offers snacks and a wide range of Texas-themed items and keepsakes. The Fanthorp Inn State Historic Site is a wonderfully preserved example of a 19th century stagecoach inn, located nearby in Anderson, TX. The entrance to the park grounds, Visitor Center and parking is always free; fees apply for access to Barrington Farm and the Star of the Republic Museum, and for tours of Independence Hall.
All attractions at Washington on the Brazos Historic Site are offering no-cost admission to all active duty military personnel and members of the National Guard and Reserve, U.S. Public Health Service Commissioned Corps and the NOAA Commissioned Corps (and five family members) from Memorial Day, May 29 through Labor Day, September 4, as part of the Blue Star Museums program. Likewise, teachers are offered admission at no cost throughout the month of August to all attractions at the complex so they can discover the learning opportunities available at the park; school ID or business card required.
VERY SPECIAL EVENTS:

Saturday, December 9, 2017: Christmas on the Brazos celebrates the historic Christmas traditions of Texas in the 1800s with period music, craft-making and artisan gifts. The day culminates in the popular Candlelight Christmas event at Barrington Living History Farm, featuring Texan frontier festivities such as musket firing, dancing and candlelit tour of the farm. Activities commence in the early afternoon and extend into the evening, bringing holiday spirit alive for all. See attached for more details.
Saturday and Sunday, March 3 and 4, 2018: Texas Independence Day Celebration - 10 a.m. – 5 p.m. (Washington on the Brazos State Historic Site). This annual two-day celebration features live music, food, traditional crafts, living history presentations, firing demonstrations, historical encampments and commemorative programs. Guests will experience life in Texas in 1836 by visiting with reenactors; witnessing firing demonstrations in the Texas Army camps; watching cooking, weaving and period craft demonstrations; and walking the same trail as Texas' forefathers and pioneer families. Texas musicians and actors will provide musical and theatrical entertainment. A Kid Zone will allow children to dress up in historical costumes; sign a large-scale copy of the Texas Declaration of Independence; and take photos near the Declaration. Contact: Jon Failor at (936) 878-2214 ext. 224 or jon.failor(at)tpwd.texas.gov.
Through February 15, 2018 – Heirloom Genealogy: Tracing your Family Treasures – Star of the Republic Museum: The Star of the Republic Museum at Washington on the Brazos will celebrate the 182nd anniversary of Texas's independence with its new exhibit, "Heirloom Genealogy: Tracing your Family Treasures." Stories will come to light as artifacts are examined in-depth through lineage research. Documents reveal where the artifacts originated, who owned them, and how they got to Texas. Items in the exhibit include three-year-old Edward Boylan's buckskin suit; Pleasant B. Watson's diary; Heinrich Tiemann's clog-making tools; and Clara Lang's grand piano, among others.
Permanent Exhibit – Pioneer Playroom – Star of the Republic Museum: The Museum's Pioneer Playroom simulates an early Texas frontier homestead that allows participants to immerse themselves in the role of pioneers through role-playing, interactive experiences and a variety of learning styles. Children can load and sit on a buckboard wagon, dress in clothing characteristic of the period, build a log cabin, wash and hang laundry, haul water, milk a cow, gather eggs from a chicken coop and more. Free with paid admission to the Museum. For more information, contact Donna Barker at (936) 878-2461 ext. 245 or donna.barker(at)blinn.edu.
SCHEDULE OF SPECIAL EVENTS - AUG THROUGH DEC 2017:
Unless noted otherwise, programs are open to all ages, but an adult must accompany any children. Visitors should dress appropriately for the season and be prepared for the weather as the events take place in 1850s period settings, with some portions outdoors. Visitors should call the park at (936) 878-2214, check the website at http://www.wheretexasbecametexas.org or follow on Facebook to confirm these dates and times; events subject to change based on weather, etc.
See attached release for more information on all events August through December 2017, as well as membership opportunities.
Washington on the Brazos State Historic Site is found on the Brazos River at the original townsite of Washington, Texas, a major political and commercial center in early Texas. It is located at 23400 Park Road 12, Washington, TX, 77880—approximately halfway between Brenham and Navasota, off of State Hwy. 105. From Hwy. 105, follow either FM 912 or FM 1155 to Park Road 12. For additional information, call (936) 878-2214 or visit the site's website at http://www.wheretexasbecametexas.org or Facebook at https://www.facebook.com/Washington-on-the-Brazos-State-Historic-Site-1562674683997696/.