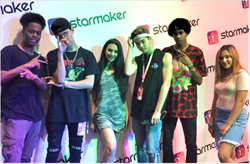 "Everyone could create a big hit on StarMaker if they love music", company representatives said.
ANAHEIM, CALIFORNIA (PRWEB) June 30, 2017
"It is a good way to encourage users to show their amazing voices not only within the StarMaker app but also on a real stage. The verified singer program will be continuously open to music lovers and new amazing features will be added in short term to our app. Other fantastic campaigns will start soon", the StarMaker team said.
Hundreds of attendees visited the StarMaker booth to enjoy live performances and try out the app with singing games, standing the chance to win prizes and gifts.
Leaders from the StarMaker team invited current and new singers to pursue their music dreams starting from the app to reach bigger stages. StarMaker has become one of the leading singing app and the company is looking forward to promoting talent through the StarMaker network.
YouTube singer star AJ Rafael shared the stage with many verified singers from the StarMaker app such as @LeonZellers, @dylanconrique and @Skyparks among others.
The 8th annual VidCon convention was held last June 21-24 at the Anaheim Convention Center in California. VidCon has become one of the most important annual meetings for online video content, featuring more than 400 creators.
About StarMaker 
StarMaker is the leading mobile singing app - be discovered or discover the next big music star. The only APPLE ESSENTIAL singing app, StarMaker enables you to create high-quality music videos with the touch of a button. Collaborate and socialize with your friends and favorite network stars. Join the 40 million people around the world who have downloaded StarMaker!