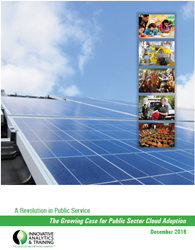 Global competitiveness in the 21st century will increasingly favor those countries willing to embrace the culture of innovation built upon cloud services
WASHINGTON, DC (PRWEB) June 30, 2017
Governments and public agencies worldwide can enjoy the same benefits as commercial enterprises by embracing cloud technology, according to a new study released by Innovative Analytics and Training, LLC (IAT). IAT's independent study, sponsored by Amazon Web Services (AWS), includes 21 case studies worldwide where public sector cloud adoption generated a range of positive macroeconomic effects such as stimulating commercial sector growth, reducing unemployment, and improving gross national product. The study also outlines how cloud supports an injection of innovation to national and local economies.
Public sector officials are under intense pressure to provide improved services at reduced costs. They also face unique technical, legal, economic and other challenges in the decision to adopt cloud. The study documents innovative public sector approaches to navigating these at all levels. IAT's study surveyed a wide range of economists, information technology specialists, cloud industry executives and customers. IAT also leveraged its own research into global cloud markets based on over thirty-five discrete criteria ranging from legal and policy contexts to information technology adoption and penetration.
The study assessed benefits and challenges associated with five public sector categories: economic development, social development, public governance, safety and security, and the environment. Most importantly, the study points to the prospects for smaller, regional or local use cases, to set the stage for broader national cloud adoption.
Beyond the case studies, IAT assesses growing opportunity costs for governments that forego moving to the cloud. Global competitiveness in the 21st century will increasingly favor those countries willing to embrace the culture of innovation built upon cloud services.
"Cloud services, now entering their third decade, have delivered revolutionary productivity and innovation benefits to the private and commercial sectors," said IAT's Chief Executive Officer Kevin O'Connell. "Our study documents specific international use cases for public sector cloud adoption by reviewing specific public sector challenges, describing adoption experiences, how authorities navigated important policy, technical and economic challenges, and, most importantly, explaining the resulting social, economic and innovation benefits. These cases should serve as important examples for other public sector officials considering cloud adoption, both in terms of opportunity costs and high-value effects."
About Innovative Analytics & Training
Innovative Analytics & Training LLC (Innovative Analytics), a privately held company in Washington, D.C., focuses on improving analysis and decision-making for government and commercial clients.  Innovative Analytics is "the sources and methods company," and helps government and commercial clients assess the policy, technical, and market aspects of advanced technologies, consistent with its broader corporate mission. For more information on Innovative Analytics and Training, visit http://www.innovative-analytics.com.