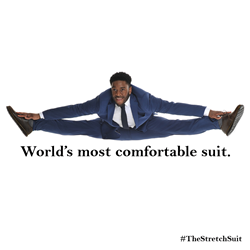 The Stretch Suit was designed with Secret Agents in mind.
London, United Kingdom (PRWEB) July 04, 2017
The Stretch Suit has been put to the test, in action packed trials on world-class athletes, gymnasts, stunt-men, martial artists, dancers and parkour athletes around the world. The durability and style intelligence has been tested to extreme levels; The Stretch Suit confirms that they've got you covered.
The Stretch Suit is tactically equipped with reinforced buttons, along with full four-way stretch fabric that's lightweight and breathable without compromising on durability and they provide free tailoring. It provides the wearer a full range of motion, a perfect fit and extra comfort which is often missing in men's suits.
The Stretch Suit's first official commercial video went viral on the internet within the first day of launching, with over 260,000 Facebook views, featuring worldwide athletes and dance professionals performing acrobatics and dance moves in The Stretch Suit.
The 'World's Most Comfortable Suit' range is now available to the public, on the platform Indiegogo with a special launch discount of up to 50% off the full retail price. Indiegogo link: http://goo.gl/R96hLQ
The Stretch Suit can withstand wide ranging movements such as backflips, non-handed cartwheels and breakdance moves as shown in their action packed commercial video.
The Stretch Suit's special features and lightweight fabrics create the perfect suit to travel in. Their lookbook shows the range of colours available.
Built for Combat: The focus on freedom of movement in The Stretch Suit was originally inspired by stunt performers playing Secret Agent roles, athletes and high performing business men who complained about how restrictive traditional suits were.
"Whether you're delivering a killer presentation in the board room, reeling off the Best Man's speech or performing an action piece on stage, The Stretch Suit brings effortless style without restrictions." - The Stretch Suit.
For more information on The Stretch Suit visit their Indiegogo Campaign or their website.
About The Stretch Suit
The Stretch Suit was created by a UK-based team of fashion, sports and manufacturing professionals. The Stretch Suit's Europe based manufacturer and London based tailor have worked with global brands such as Asos, Selfridges and Topshop and has more than 35 years of combined garment tailoring and manufacturing experience. Website: http://www.thestretchsuit.com