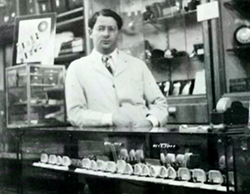 Brooklyn, New York (PRWEB) July 06, 2017
Martin Kaminsky opened the doors of the first GEM location in Brooklyn in 1947. The original store located at 4th and Atlantic became a staple in the community. Several years later, the business would move a few doors down and continue its success. 70 years later, GEM has expanded throughout the greater New York area with 25 locations in Brooklyn, Manhattan, Queens, Long Island and the Bronx. Presently providing collateral loans up to one million dollars. Buying gold, diamonds, estate jewelry and luxury watches. GEM has expanded its reach to collateral loans on vehicles, antiques and electronics.
GEM continues to be a family, owned and operated privately held company. The company is now owned by Martin Kaminsky's children, Mitchell Kaminsky-Chairman of the Board and Eileen Kaminsky Vice President of Merchandising and Marketing. GEM's President is Martin's granddaughter Rachel Wilen. Today, GEM has become the most trusted collateral lender in New York City, in addition to being the largest privately held pawnshop chain in the U.S.
You don't last 70 years in business without learning something. When asked how the company continues to thrive through years of economic uncertainty, Chairman of the Board, Mitchell Kaminsky had this to say, "We've been able to thrive because we give our employees the education and tools to be the best in their field, which means that GEM is the leader in our field. Most importantly, we put our customers first." Eileen Kaminsky, VP of Marketing and Merchandising added, "It's all about quality at the best price! We very careful appraise and make sure that we give value for the customer's hard earned dollars. Our staff is our family and we train them to welcome the customer as if he were a long lost brother, who can resist that?"
GEM will launch a month long celebration during July for its 70th year and plans to celebrate this milestone anniversary with both its customers and employees.