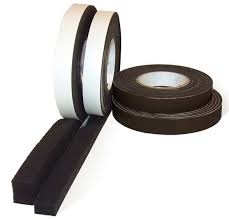 Flexible 600pa Weather Protection on a Roll
(PRWEB UK) 7 July 2017
Lynvale announces the release of one of the most important products to hit the adhesive market - the flexible joint sealing EXP6 Expanding Foam Tape, which is ideal for sealing new buildings & refurbishments.
EXP6 Expanding Foam Tape has been specially designed for reliable joint sealing in building constructions and facades. The broad application spectrum of this all-rounder tape ranges from sealing moving joints between prefabricated concrete components, frames and masonry to uses on skylights and windowsill connections.
A Product in High Demand
Due to its excellent properties, EXP6 Expanding Foam Tape can be used for reliable joint sealing on facades of buildings up to 100 metres high.
Certified To Work in External & Internal Joints
The BG1 certification is proof that the permanently elastic tape can be used in external joints which are directly exposed to the weather. EXP6 Expanding Foam Tape is also able to cope with long-term loads caused by UV light and driving rain.
EXP6 Expanding Foam Tape is also simple and powerful to use. Thanks to the powerful adhesive strength on one side, the joint sealing tape can be fitted easily and effectively and can be used up to a joint width of 42 mm. Once installed, it develops its outstanding structural properties in terms of resistance to weather conditions, heat detention, humidity and fire protection. In its long term usage, it also guarantees a cosy climate inside the building.
Some Key Facts to Consider When Using EXP6 Expanding Foam Tape:

Complies with the DIN 18542 BG 1 / BG R and DIN 18055
Reliability through a wide joint application range
Seals against wind, dust, driving rain
Allows for vapour diffusion permeable
Excellent adhesive properties, to aid application
Permanently elastic with long-term life expectancy
Can be painted over with standard emulsion paints
Compatible with all known standard building materials
Applications in all construction areas and building types are possible
Also available pre-painted in various colours (High Volume Only)
Constant quality to DIN EN ISO 9001 and DIN standards, with regular controls from independent institutions
Externally supervised by ift Rosenheim: for driving rain and air permeability (a-value)
Complies with EnEV requirements and the recommendations of the RAL "installation guide"
10 years externally supervised outdoor weathering
10 Year Function Warranty*
On the conditions of the manufacturer (available on request)
Where To Find EXP6 Expanding Foam Tape:
EXP6 Expanding Foam Tape can be purchased as individual rolls and full box quantities from the following stockists:
http://www.Affixit.co.uk
http://www.expandingfoamtape.co.uk
For larger volumes (50 - 10,000,000 Rolls) and International orders please contact Lynvale directly http://www.lynvale.co.uk