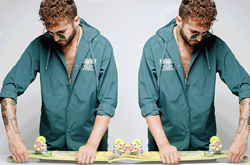 In a world where people are becoming more and more creative, we wanted to create something that allows individuals who skate that exact same freedom.
Los Angeles, CA (PRWEB) July 05, 2017
Skateboarding is a global community that thrives on creativity, perseverance and a spirit of individuality, but beyond stickers and sharpies, it can still be difficult to truly personalize a deck. WarDrobe Skateboards is introducing the world's first interchangeable skateboard skins that allow skaters to switch up their style in minutes. The company is currently live on Indiegogo and raising funds to bring the project to life.
Beyond a few superficial changes or outright dismantling a board to switch out a replacement deck, having a truly personalized look that can be changed on the fly is impossible to come by. The patented WarDrobe Interchangeable Faceplate Skateboard System (IFSS) is a revolutionary, first-of-its-kind skateboard kit that allows skaters to switch up the style of their board in minutes, with no complicated diagrams.
"My friend and I were thinking of doing a skateboard company selling "one off" skateboards, where we drew/ painted unique different designs on each deck. But I thought to myself, anyone could do this and bigger named artists would put us out of business quick if it caught on," says co-founder and inventor Cornell Miller on the inspiration behind the project. "I slept on it a few nights and thought about cell phone covers and how easy they were to change with corresponding apparel or moods. That's when the idea dawned on me. Interchangeable faceplates for the skateboard or as I coined it the "cell phone cover for skateboards."
Founded by a collective of artists and entrepreneurs, the company wanted to make skaters a board that reflects the same freedom of creativity they feel when cruising—from your mood of the day, to a favorite character or sports team to your favorite social cause. After several years and prototypes, WarDrobe Skateboards has brought to life that seamlessly accomplishes all of the above in minutes.
"In a world where people are becoming more and more creative, we wanted to create something that allows individuals who skate that exact same freedom. Core skaters love the scuffs and marks on their skateboards, but we are focused on the leisure side, and that beginner skater who may want to change designs at will," adds Miller. "As a young skater I never did tricks. I just rode up and down my neighborhood. There weren't skate parks in St. Louis, MO especially any in or around my neighborhood. But I always loved the designs of the skateboard decks and the freedom of riding."
The WarDrobe Skateboards Interchangeable Skateboard Skins are live and available to support on Indiegogo: https://www.indiegogo.com/projects/world-s-1st-interchangeable-skateboard-skins-innovation-technology
About WarDrobe Skateboards
Founded in 2000 by a collective of entrepreneurs, War*drobe celebrates the spirit of inclusivity and innovation that defines skateboarding as more than a practical lift—it's a lifestyle. We love that skaters are driven by minimal rules but mad respect, encouraging one another to appreciate the spectrum of skill and flavor represented by every individual's signature flair.
For more information on WarDrobe Skateboards please visit https://www.wardrobegalaxy.com
###