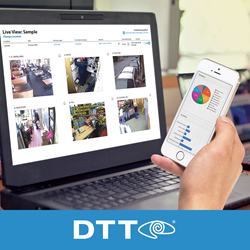 With the DTT system we can keep an eye on cashiers and customers for safety reasons.
Las Vegas, NV (PRWEB) July 07, 2017
DTT would like to congratulate the Alabama chapter of the Asian American Store Owners Association (AASOA) on their new partnership with United Merchant Associations. DTT and AASOA's relationship blossomed after being named the association's preferred surveillance and loss prevention vender for all AASOA chapters.
AASOA is the buying group that represents over 5000 store owners throughout Florida and the Southeast. Aimed to provide members with the tools they need to grow and prosper, AASOA has turned to DTT's suite of services, which includes the SmartAudit™ (specialized reporting designed to increase ROI) to further assist their members. "We were looking for a one-stop system with crystal clear audio and imaging that is saved on a cloud-based server and allows for downloading when necessary," says AASOA board member Vishal Patel. "With the DTT system we can keep an eye on cashiers and customers for safety reasons. It also deters cashiers from stealing or doing something they're not supposed to."
"When searching for a multiple purpose suite of services like DTT's, AASOA expressed that they wanted to find the best solution to address their members' concerns. Since installing the DTT system, they have been able to keep track of inventory, transactions, and cut down on employee theft. Also, through MyDTT, members could use a cloud based portal to view live and recorded video, create case management reports, and filter suspicious transactions," states Crista Backo, Director of C-Store Sales, "The association also saw a tremendous value in services like the SmartAudit™ and RISA."
About DTT
Headquartered in Las Vegas, Nevada, DTT provides digital video surveillance solutions to the hospitality and specialty retail industries. DTT was founded in 1999 by Sam Naficy, leveraging the power of emerging digital technology to support the needs of a broad base of clientele. Since first launched, DTT has equipped, serviced and supported more than 35,000 clients. Every day, software provided by DTT protects trillions of dollars in assets and oversees nearly 2 million employees. Some of the world's most popular and respected restaurant brands use DTT including McDonald's, SUBWAY®, Dairy Queen, Burger King, Taco Bell, KFC, Auntie Anne's, and Potbelly Sandwich Works, to name a few. Please visit http://www.dttusa.com for more information.
About Asian American Store Owners Association
Established in 2009 the Asian American Store Owners Association has quickly tripled its membership allowing store owners to stay current on industry trends, network with other business owners, receive discounts and attend the annual AASOA Tradeshow and Banquet free. Representing almost 1000 store owners throughout Florida and the Southeast AASOA provides members the tools they need to grow and prosper. Nearly 90% of their members are independent store owners, and their data collection allows them to create buying power for them, as well as their chain store members. Also, the organization keeps up with industry news, send out important news via email newsletters, and provides products news and research trends. For more information, visit http://www.alabamaaasoa.com