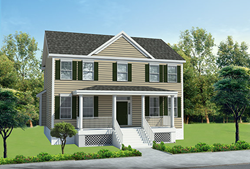 "One of our main goals here at Traditions at Chesterfield is to maintain the rural character of the area by permanently preserving farmland and utilizing neo-traditional design principles," said Paul Csik.
Chesterfield, NJ (PRWEB) July 10, 2017
Children are outside riding their bikes on peaceful cul-de-sacs and neighbors are chatting on their front porches. The sun sets as families stroll along lighted, tree-lined streets. From shopping and dining to parks and schools, everything you need or desire is within walking distance here at Traditions at Chesterfield, an award-winning Smart Growth community in Chesterfield that puts the focus back on people rather than automobiles by promoting walking, biking and recreation.
"One of our main goals here at Traditions at Chesterfield is to maintain the rural character of the area by permanently preserving farmland and utilizing neo-traditional design principles," said Paul Csik, Senior Vice President for American Properties Realty, Inc*. "These types of neighborhoods date back to 18th century American and European towns, with a modern spin to accommodate a better quality of life and take away the need to drive everywhere. It really is the 'new urbanism' and will lead to less congestion and overall pollution in an area where agriculture and horse farming are the predominant land uses."
Community highlights include neo-traditional homes in a charming village design with plenty of open space, including guaranteed preservation of land in the remainder of the township for years to come. Traditions at Chesterfield also features a new elementary school adjacent to centralized recreation facilities, as well as future retail.
"Traditions at Chesterfield is the premier residential community within the 500-acre Old York Village. "Perfect for growing families, the community is strategically designed to be in walking distance to everything," said Csik. "Children can even walk to the elementary school. The Shoppes at Old York Village, a future retail component, is also walkable."
Neo-traditional home designs also feature rear entry garages (per home design). "These floor plans allow us to the maximize the space of a home site without taking away from the exterior elevation of the home," said Csik. "It really does increase the curb appeal and our homebuyers absolutely love these designs."
Single-family Classics
The Single-family Classics collection at Traditions at Chesterfield, priced from $399,990, offers nine home designs with three to four bedrooms, up to three-and-a-half baths, two-car attached garages and up to 3,654 sq. ft. of premium living space. Optional finished basements with nine-foot basement ceilings are also available.
"Great for entertaining, these home designs offer spacious family rooms and living rooms with world-class appointments," Csik added. "They also boast available upgraded features like a master bedroom tray ceiling, recessed lighting, stainless steel appliances and hardwood flooring in the foyer, dining room and second floor hall."
The Carriage Collection
The Carriage Collection of townhomes features three home designs to choose from with up to 2,698 sq. ft. of living space. Floor plans offer up to four bedrooms, three-and-a-half baths, recreation rooms, entry level walk-out or walk-in basements and one- to two-car garages. As an added benefit, townhomes have no homeowner association fees and are priced from $313,990.
About Traditions at Chesterfield
Traditions at Chesterfield is ideally located in Chesterfield, voted "#1 Best Place to Live in Burlington County" by Philadelphia Magazine. It is also convenient to West Windsor, Robbinsville, East Windsor and Monroe.
The New Jersey Turnpike, I-295 and Hamilton Train Station are all easily accessible to Traditions at Chesterfield for commuting to Philadelphia or New York City. Residents will find entertainment at nearby Six Flags Great Adventure and Mercer County Park and shopping at the Jackson Outlets. Chesterfield is also recognized for their top-rated, state-of-the-art elementary school (K-6), located within walking distance to Traditions at Chesterfield.
Interested homebuyers can visit the Traditions at Chesterfield Sales Office, located at 7 Borden Lane, Chesterfield, NJ (GPS: 38 Old York Road, Chesterfield). The Sales Office is open from 10am to 5pm daily. Schedule an appointment with an on-site sales consultant by calling 609.424.0026. For more information, visit http://www.TraditionsAtChesterfield.com.
About American Properties Realty, Inc.
American Properties Realty, Inc., a licensed real estate broker represents the principals who have been in business for over 40 years and involved in the development of over 10,000 single-family homes and townhomes, and is the sponsor of multi-family buildings. Headquartered in Iselin, NJ, American Properties Realty, Inc. represents Traditions at Chesterfield, LLC.