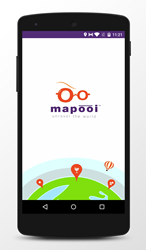 Users can schedule Tweets for specific timeframes that will automatically post and update the community about occurring events.
Austin, TX (PRWEB) September 19, 2017
Mapooi and Mapooi with Twitter apps have officially launched in the Google Play app store. Mapooi and Mapooi with Twitter provide a means for users to either post or search posted information with Google Maps, and are available for Android devices at the Google Play Store. Mapooi is a mobile "information-mapping" application that allows users to communicate and connect while exploring locations around the world. In an attractive purple and orange theme, Mapooi allows users to schedule future posts, view listings of recent posts, and even has a moving map feature, where mapped postings can be viewed on selected regions of a map, even during travel. Mapooi with Twitter is an alternative mash-up of Twitter accounts and Google Maps.
Paris Enterprises states the intention for the applications is to create a social map that helps inform people in a number of different scenarios. Now users can even schedule postings for specific time frames that will automatically post and update the community about occurring events.
For example, users can post items for sale, shout out about musical events, post photos of exciting sporting events, track hiking trails and more. Mapooi users can post a warning such as an accident or flood. When the app opens, it shows recent listed posts and mapped posts. Users can explore established locations or pin a new location by writing a comment and/or posting a picture. If an event (e.g., garage sale) is happening at a later time, users can schedule a posting in advance that will automatically display at the specified time and notify other users. Mapooi is a useful tool that helps people map and document what is being said about different locations around them. They can join in the experience or just browse events around the world.
The application developer notes it is important to respect one's right to privacy, yet there are times when users want others to know their location. A social app that emphasizes location as value has not been fully developed until now.
For more information on Mapooi, please visit: http://www.mapooi.com or visit their social media sites, including Flickr.