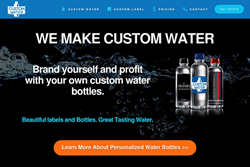 Pasadena, CA (PRWEB) July 11, 2017
CustomWater.com ("CustomWater"), the nations leading personalized water bottle supplier, is pleased to announce the relaunch of its website.
"We can't express how thrilled we are that our new website is now mobile friendly," said Marissa Claybern, Marketing Director for CustomWater.com. "The hard work we put in will provide a vastly improved experience for our partners, clients and prospective customers. Our new platform will set us up for continued growth and expanded service offerings."
Visitors to CustomWater.com will come to find a modern design and smooth flowing user experience across all device types. The new water bottle website offers information on the companies nationwide delivery program, personalized label options, and the vast opportunities to customize water bottles.
With coverage to all 50 states and multiple delivery options including local white glove treatment, retail support, warehousing and scheduled deliveries, CustomWater.com can support the needs of growing businesses across the United States. In addition, the CustomWater provides shipping support to customers with requirements in Europe, the Middle East and South America.
About The Company
CustomWater has been providing private label promotional water bottles since 2001. As a leading bottle water company, CustomWater offers a wide range of bottles and custom label options to support various clients requirements and needs. CustomWater provides itself on providing a high level of customer service, short turn times and great pricing -- all while providing the best private label water on the market. To learn more, call 1-877-891-4274 or visit the website at CustomWater.com