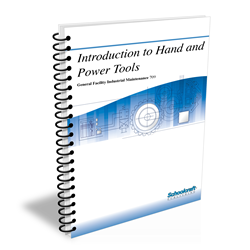 Schoolcraft Publishing's newest textbook makes finding comprehensive course materials simpler by offering a curated selection of our popular topics covering various hand and power tools all within one textbook. - Pete Heinrich, Senior Account Manager
Buffalo Grove, IL (PRWEB) July 11, 2017
Schoolcraft Publishing's extensive educational textbook library now includes the Introduction to Hand and Power Tools textbook within the General Facility and Industrial Maintenance series. The new, 19-chapter textbook is now available for adoption in advance of the 2017–2018 school year and features topics like using measuring tools, fasteners, electric drills, and many other vital industrial tools. Now, instructors can provide an all-encompassing textbook to their students that covers every important hand and power tools used within their industrial curricula.
The Introduction to Hand and Power Tools textbook features these topics:

Measurement Tools and Instruments
Measuring Tools
The Safe Use of Hand Tools
Wrenches and Screwdrivers
Fasteners
Pipefitting Tools
Plumbing Tools
Electrician's Tools
Metalworking Tools
The Safe Use of Portable Power Tools
Electric Drills
Electric Hammers
Pneumatic Drills and Hammers
Linear-Motion Saws
Circular Saws
Electric Sanders
Grinders and Shears
Tool Sharpening
How to Grind Single-Point Tools
"Schoolcraft Publishing's newest textbook makes finding comprehensive course materials simpler by offering a curated selection of our popular topics covering various hand and power tools all within one textbook." said Pete Heinrich, Senior Account Manager. "As always, instructors can further customize Schoolcraft books by adding additional chapters to any selection."
The Introduction to Hand and Power Tools textbook is a powerful resource that combines important know-how information from multiple different titles on various tools students will use throughout their industrial careers. This new title will join Schoolcraft's ever-growing library of industrial textbooks as one of the most comprehensive titles yet.
For additional information about Schoolcraft Publishing visit http://www.schoolcraftpublishing.com. You may also contact us at 800-837-1255.
About Schoolcraft Publishing: Schoolcraft Publishing is a privately held company, with headquarters in Buffalo Grove, IL. As the educational affiliate of TPC Training Systems, Schoolcraft Publishing benefits from TPC's extensive library of industrial skills training resources to provide training, teaching, and learning materials for industrial education and safety training programs across many industries.