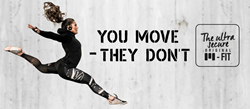 These headphones have been put to the test in the roughest climates of Scandinavia and are outfitted with a NANO-seal for extra protection from sweat and excessive use
Denver, CO (PRWEB) July 11, 2017
FlipBelt, the activewear brand behind the ultimate carry-all fitness belt, has partnered with MIIEGO to offer the latest in wireless headphone technology.
"MIIEGO is an expert in the sport headphones market," said FlipBelt co-founder Mia Do. "Their products are at the top of their class and have won numerous awards, making us eager to partner with them."
The new MIIEGO by FlipBelt line features a lightweight design and innovative neck strap that keeps them from moving and sliding around while working out.
Users are more comfortable, don't have to mess with annoying cords, and aren't continually readjusting to get the right fit. Plus, they currently offer both on-ear headphones that won't irritate the interior ear canal and classic ear tips.
Unlike other brands that isolate the ears, they allow some ambient noise to drift in--giving runners, cyclists, and hikers a heads up on approaching danger.
The MIIEGO by FlipBelt line includes three distinct products:
MIIEGO AL3+ Woman – These headphones are designed specifically to fit women's head sizes and contours, ensuring they'll stay in place.
MIIEGO AL3+ Freedom – From working out at the gym to running a marathon, this version delivers wireless freedom for every activity under the sun.
MIIEGO M1 – These headphones were developed with professional athlete input. Users can select their favorite ear tips and control how tight or loose the neck is while reveling in perfect audio.
All MIIEGO products are built to last. If a problem does occur, each pair comes with a one year warranty for peace of mind.
"These headphones have been put to the test in the roughest climates of Scandinavia and are outfitted with a NANO-seal for extra protection from sweat and excessive use," explains Do. "We're confident they'll endure."
MIIEGO by FlipBelt can be purchased online at http://www.flipbelt.com.