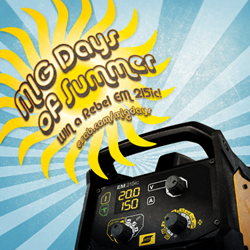 Florence, SC (PRWEB) July 13, 2017
Enter by August 14th for a chance to win a Rebel EM 215ic MIG welding system.
ESAB Welding & Cutting Products today announced its MIG Days of Summer promotion, which offers six opportunities to win an ESAB Rebel EM 215ic MIG welding system. In partnership with Weld.com and in in conjunction with the site's "MIG Monday" educational videos, ESAB will be giving away six Rebel EM 215ic welders weekly, beginning on July 10 and running through August 14, 2017.
To enter the contest, watch for a code word to appear on screen during each episode of Weld.com's MIG Monday. Then go to esab.com/migdays to enter the word for the chance to win a Rebel EM 215ic MIG welder. ESAB will draw an entrant's name each Sunday night and announce the weekly winner on http://www.facebook.com/esabna. If you can't wait to win a welder, a promotional price of $999.00* is now in place on the Rebel EM 215ic and available at participating distributors today.
Top Performer, Great Value
Rebel EM 215ic appeals to both professional (fabricators, contractors, maintenance/repair) and home hobby welders (motorsports, farm/ranch, DIY, metal art) because it offers industrial-grade performance with input power and location flexibility. Rebel weighs 40 lbs. for portability, has the flexibility to use 120V - 230V primary power for location flexibility and provides up to 240 amps of welding output. It can weld with steel, stainless steel and Flux-Cored wires, as well as MIG weld aluminum with the optional spoolgun.
"Rebel offers the industry's best combination of performance, quality and technology. Users can be confident they will receive the best value for their investment," says Doug Smith, Product Business Manager – Arc Equipment, ESAB.
The Rebel EM model contains ESAB's unique sMIG (smart MIG) function that enables welders of all skill sets to obtain a stable arc and superior, repeatable welds. With sMIG, users set metal thickness, select wire diameter and start welding. Within three seconds, sMIG automatically optimizes arc performance for any popular wire type and shielding gas combination, as well as adapts to the operator's individual welding style. Users will actually hear the unit tune settings to achieve the classic "sizzling bacon" sound that signifies a good MIG arc.
"Rebel and sMIG enable experienced welders become productivity more quickly, and novice welders start producing quality welds in less time," says Smith. He notes that while Rebel EM uses advanced technology, it features standard controls for wire feed speed and voltage for operators who prefer a traditional MIG welder.
ESAB Welding & Cutting Products is a recognized leader in the welding and cutting industry. From time-honored processes in welding and cutting to revolutionary technologies in mechanized cutting and automation, ESAB's filler metals, equipment, and accessories bring solutions to customers around the globe. For more information, visit http://www.esab.com or call 1-800-ESAB-123.