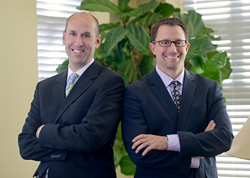 Cornelius, NC (PRWEB) July 12, 2017
Patients in need of a dentist in Cornelius, NC, to replace their missing teeth can now turn to Drs. Steven White and Brad Haines with White and Haines Advanced Dentistry for treatment. The doctors recently attended the M3 Advanced Implant Course at The Engel Institute, a four-day intensive course focused on the intricacies of precise, guided dental implant placement. This course has given Dr. White and Dr. Haines the tools necessary to offer the latest care to their patients, and they are eager to help those who only wish to reclaim their smiles.
The course spanned four days and included intensive study of dental implant treatment. Attending clinicians learned how to convert a denture into a screw-retained or snap-on implant supported denture, all chair-side. The course also covered guided implant surgery. This treatment technique applies 3D Cone Beam CT scans to treatment planning and execution. Using precise 3D models of each patient's oral structures, Drs. White and Haines are able to increase the accuracy of each procedure as well as long-term success. On the final day of the course, the doctors were able to perform this surgery on real patients and begin offering reliable solutions.
At White and Haines Advanced Dentistry, the doctors utilize a VATECH PaX-i3D Cone Beam CT imaging technology to capture 3D scans of patients' teeth. The doctors use the information from the CT scan to map the precise location and angle they should place each implant post, greatly increasing success rates. White and Haines Advanced Dentistry also offer custom restorations using modern milling technology. These single implant or full-arch prostheses offer a dependable enhancement to each patient's unique smile.
As a dentist in Cornelius, NC, Dr. White and Dr. Haines know that having attractive, functioning teeth is what many patients desire. They have devoted their time and resources to learning this craft to offer reliable, long-term solutions. Those interested in learning more about dental implants are invited to schedule an appointment with White and Haines Advanced Dentistry by calling 704-896-9535.
About the Practice
White and Haines Advanced Dentistry is a general dental practice offering personalized dental care to patients in Cornelius, NC. Dr. Steven White offers more than 20 years of experience in general and cosmetic dentistry and has served as a mentor at the Nash Institute for Dental Learning and an instructor with the Advanced Aesthetics Program. Dr. Brad Haines was named a Top 40 Dentist Under 40 in Incisal Edge Magazine and brings more than a decade of experience in general and cosmetic dentistry. Drs. White and Haines strive to understand each patient's unique set of goals to help them reach a healthy smile and they are members of the American Dental Association, Dental Organization for Conscious Sedation and Charlotte Dental Society, among many others. To learn more about Drs. White or Haines or the services they offer at their practice, please visit their website at http://www.drswhiteandhaines.com or call 704-896-9535 to schedule an appointment.