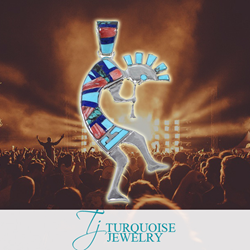 The freedom of expression and the musical creativity that take place at these festivals are the perfect place for Kokopelli to make an appearance in the crowd
(PRWEB) July 31, 2017
Known as a fertility god, prankster, healer, and story teller, Kokopelli has become a prevalent figure in the Southwest, not only in Native American communities, but everywhere in the Four Corners region.
Kokopelli embodies the spirit of the Southwest, dating back over 3,000 years; Kokopelli's origin is mostly unknown. He is mostly depicted as a traveling, flute-playing hunchback that entertains children of the many Southwestern Native American tribes, playing his flute for them and dancing to the tune of his own music.
TurquoiseJewelry.com, the preeminent resource for turquoise and Native American jewelry, believes the musical season is the perfect time to show off their new collection of this figure that has charmed generation after generation with his musical ability. TurquoiseJewerly.com spokesman, Jack Birch, gave a statement with the new launch.
"Everyone knows that the summertime is when the biggest and best musical events take place, all around the country. The freedom of expression and the musical creativity that take place at these festivals are the perfect place for Kokopelli to make an appearance in the crowd. For that reason, we are launching a new collection of Kokopelli jewelry for people to enjoy as they attend, listen, and follow the flow of music that festival season carries in abundance."
The new collection of Kokopelli jewelry includes Kokopelli rings, earrings, bracelets, necklaces, pendants, and much more.
The team at TurquoiseJewelry.com explains that the inspiration for this new release came from Kokopelli's famous flute, which is said to be heard in the spring's breeze, bringing warmth to anyone that hears. While the spring may have come and gone, the music is just starting to play across the country and anyone interested in Kokopelli and his interesting history can visit TurquoiseJewely.com to have their own Kokopelli tribute to wear when they go to concerts and other musical events.
Whatever the true meaning of Kokopelli originally was, he has become a source of music making, dancing, and spreading joy to the people that hear him play.
To see more Kokopelli and other turquoise pieces, visit TurquoiseJewelry.com.