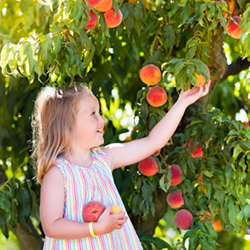 "A year after the peach crop was all but decimated in the Northeastern United States, Lyman Orchards is experiencing a robust rebound in 2017. -- Executive Vice President John Lyman III
MIDDLEFIELD, CT (PRWEB) July 14, 2017
Sweet, delicious and bountiful, Pick Your Own peach season has returned to Lyman Orchards!
After Mother Nature declared last year a "bye," Pick Your Own peach season has returned, and whether you pick 'em, eat 'em or bake 'em, peaches are always a favorite treat.
You can Pick Your Own peaches now through September. And it only gets more bountiful: not only are peaches, blueberries and raspberries ripe for the picking, apples, pears, pumpkins (and more) are getting ready for their closeups as well.
According to Executive Vice President, John Lyman III, "A year after the peach crop was all but decimated in the Northeastern United States, Lyman Orchards is experiencing a robust rebound in 2017. We're excited for folks to return to the orchard this summer and taste for themselves the fresh, unique sweetness that peaches, and all our fruits, offer."
Pick Your Own is open daily, weather permitting, from 8 a.m. to 5 p.m. Customers can call the PYO hotline at 860-349-6015 for up-to-date picking information.
Some facts about peaches:
Peaches originated in China, where they have been cultivated for more than 3,000 years.
The peach tree belongs to the same family of trees as roses and almonds.
Although no one is really sure why peaches have fuzzy skin, one theory suggests that peach fuzz acts as an irritant to destructive insects.
It is a common misconception that a peach/plum hybrid is the nectarine. A nectarine is actually just a variety of peach that has smooth rather than fuzzy skin.
###
About Lyman Orchards
Set on 1,100 acres in Middlefield -- the heart of Connecticut -- Lyman Orchards (est. 1741) is a popular destination for the whole family. Shop at the Apple Barrel market, filled with fresh farm produce and Lyman Orchard's award-winning "Hi Top" Apple Pie; celebrate special events and weddings at the Lyman Homestead; enjoy seasonal Pick Your Own fruits and tours of the orchard; golf on two world-class public 18-hole courses designed by Gary Player and Robert Trent Jones, and improve your skills at the Lyman Orchards' Golf Center and Apple Nine Course. For more information, call Lyman Orchards at 860-349-1793, or visit online at http://www.lymanorchards.com..