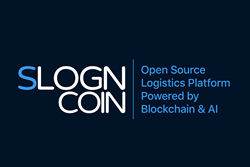 Our goal is to build an open source platform to become the industry standard for everyone who wants to develop their app or widget for logistics.
Santa Clara, California (PRWEB) July 14, 2017
SLOGN Sets Aside $10 Million For Open Source Contributors Through Its Much Anticipated Initial Coin Offering Campaign
SLOGN, the open source blockchain platform for decentralized logistics, turns to popular crowdsale and initiates an Initial Coin Offering (ICO) campaign. The platform plans to set aside $10 million to pay top software companies for open source contributions.
Logistics represent a booming segment. So do blockchain projects. Their unique combination, SLOGN (Smart LOGistics Network), is the next big thing in the market.
SLOGN is a breakthrough blockchain project that quickly gains popularity among trucking companies and cryptocurrency holders. An open source platform for decentralized logistics that uses blockchain and artificial intelligence.
Ihor Pidruchny, in charge of platform design for SLOGN, explains, "The logistics industry is huge when it comes to the number of players, types of companies participating in the transportation, and storage processes. Our goal is to build an open source platform to become the industry standard for everyone who wants to develop their app or widget for logistics. The app would instantly receive access to millions of potential users across logistics industry".
SLOGN's team of experts, measuring their impact on the market, decided to launch a promising Initial Coin Offering (ICO) campaign. The foundation will raise contributions from interested cryptocurrency holders all over the world.
What is really interesting is that in combination with in-house development, the foundation intends to redirect a huge percentage of their initial contributions to fund open source projects. According to their ICO announcement, the Open Source Fund will count for 7.5% of the total coin supply. Instead of competing, software developers will unite their efforts to build open source software for the logistics industry.
On the ICO which is scheduled for July 25th, Ihor has commented the following: "We receive a lot of support from the industry and cryptocurrency holders, and we forecast a very successful semi-private pre-ICO; since everyone likes the project, we are able to redirect a marketing bounty fund into software development".
The most talented developers and teams may be awarded fully paid contracts for developing best-in-class apps for the SLOGN platform. SLOGN Selection Hackathons are scheduled to offer the chance to win the contract for the Open Source Tournament - a fully paid contract to develop the software.
The upcoming Selection Hackathons are scheduled as follows:
(x) "Driver Mobile Wallet and Virtual Assistant" on September 22nd in San Francisco,
(x) "Open API Platform & Basic Dashboard" on December 1st in New York,
(x) "Smart Contract Wizard" on March 16th, 2018 in Berlin,
(x) "Escrow / Instant Pay System" on June 15th, 2018 in Toronto, and
(x) "Machine Learning Platform" on September 7th, 2018 in Lviv.
Details on the SLOGN ICO, its white paper, and the Selection Hackathons are available at http://www.slogn.net
About
Founded in 2017, SLOGN is the ultimate open source platform for logistics based on blockchain and artificial intelligence. Using cutting-edge technology, the platform is set to bring to the market significant innovation for transparency, efficiency, and speed. http://www.slogn.net
Disclaimer
The sale of the SLOGN tokens is not the sale of a security. The SLOGN foundation will use the proceeds from the sale of the tokens principally to advance the purposes set forth in its white paper. Virtual currency is not legal tender, is not backed by the government, and accounts and value balances are not subject to consumer protections. The offering of the tokens is subject to the terms at http://www.slogn.net. This press release is for informational purposes only. The information does not constitute investment advice or an offer to sell or invest.