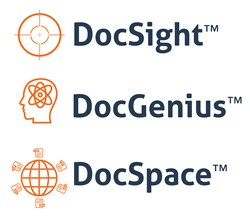 Umbrella of specific brand families better position ActivePDF products to our customers and their unique needs.
Laguna Niguel, CA (PRWEB) July 18, 2017
ActivePDF, a global leader in high-volume PDF automation, today revealed its new family of brands and positioning of products. ActivePDF has restructured their line of custom PDF manipulation products into three detailed categories, titled DocSight, DocSpace and DocGenius. The newly restructured family of brand names will now be included into easily identifiable categories, with emphasis on how the products work together and their specifically defined roles.
"Arranging ActivePDF products under an umbrella of specific brand families helps to better position those products to our customers and their unique needs," says Tim Sullivan, CEO and Chief Architect at ActivePDF. "In the past, we've described our PDF manipulation products as a 'suite of tools.' However, with the evolution of PDF, that doesn't present the whole story. The implementation of our new brand families will provide a cleaner and more organized approach to the vast amount of PDF capabilities that ActivePDF provides."
Below is the complete list of ActivePDF brand families, how they work, and the associated products:
DocGenius – Developer tools for creating software applications that have embedded PDF functionality.

Toolkit – Scalable and flexible PDF processing library
Server – Scalable, high-volume PDF generation for legacy software
WebGrabber – Server-based HTML-to-PDF conversion
Xtractor – Search PDF to retrieve or extract text and images
DocSight – Unattended server applications that enable creation, conversion and other PDF functionalities.

OCR – Supports image conversion of PDF files to searchable text
DocConverter – High-volume document conversion to and from PDF and PDF/A
Meridian – Point and print server-based processing supports unlimited users
DocSpace – Server applications with user interfaces for viewing, creating and interacting with PDF.

Reader Plus – Browser-based viewer and editor to easily embed interactive PDF functionality in web applications
ActivePDF is recognized as a driving force in bringing businesses closer to a more complete digital environment. To learn about the ActivePDF new family of PDF products, visit [http://www.activepdf.com.
Founded 2000, ActivePDF Inc., is privately held and is a global provider of PDF tools for integration within virtually any business process, including Enterprise Content Management (ECM), Document Management, and Workflow solutions. The ActivePDF suite is designed to streamline large volumes of rendering and assembly of content into accurate, secure and accessible PDFs. We serve over 25,000 customers from 90 countries in numerous industries including: Healthcare, Financial, Education, Manufacturing, Utilities, Engineering, Legal and Government. For more company information, visit ActivePDF at https://www.activepdf.com.
####
ACTIVEPDF and the ActivePDF Logo are registered trademarks of ActivePDF, Inc. All other trademarks are property of their respective owners.