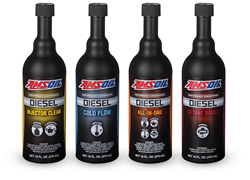 (PRWEB) July 20, 2017
AMSOIL has added new Diesel All-in-One to its line of premium diesel fuel additives, and AMSOIL Diesel Injector Clean and Diesel Cold Flow have been reformulated for improved performance. Diesel owners now have more options and more convenience for diesel maintenance.
New AMSOIL Diesel All-In-One combines the detergency, lubricity, cold-flow and cetane benefits of Diesel Injector Clean, Diesel Cold Flow and Diesel Cetane Boost in one convenient package. No potency was sacrificed in the creation of this concentrated, convenient new product.

Cleans dirty injectors
Lubricates fuel pump and injectors to reduce wear
Extends fuel filter life
Improves fuel economy up to 8%
Combats fuel system corrosion
Fights gelling in cold weather climates
Prevents wax settling during storage
Improves cold filter-plugging point (CFPP) by up to 40°F
Delivers maximum horsepower while increasing cetane up to 4 points
Alcohol-free formulation is safe for use in all diesel fuels, including bio-diesel
Reformulated AMSOIL Diesel Injector Clean now provides even better lubricity and cleaning performance to help prevent premature failure of fuel injectors and fuel pumps. It cleans dirty injectors, reduces smoke and emissions and improves fuel economy up to 8%.
AMSOIL Diesel Cold Flow has been enhanced to improve engine reliability and reduce downtime and maintenance costs. It offers excellent cold-weather performance by combating cold weather gelling and improving CFPP by up to 40°F.
AMSOIL Diesel Cetane Boost rounds out the AMSOIL diesel fuel additive lineup, raising the cetane number of diesel fuel up to seven points for maximum horsepower. It offers increased fuel economy, reduced smoke and emissions and delivers a smoother idle while remaining safe for use in all diesel engines.
About the Company: AMSOIL has been the recognized leader in synthetic lubrication since 1972. For more information about AMSOIL contact your nearest AMSOIL distributor, or call AMSOIL at (715) 392-7101 or 1-800-777-8491. AMSOIL INC., 925 Tower Avenue, Superior, WI 54880, or go to http://www.amsoil.com.
News Contact:
Ed Newman
AMSOIL INC.
enewman(at)amsoil(dot)com
715-392-7101