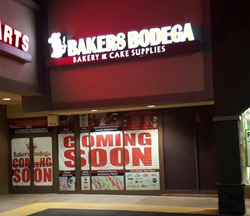 Anaheim is a wonderful city. There is a such unique network of passionate bakers here of which I've never seen anything quite like. This new location is giving us convenient access to provide more than 600 local bakeries, donut shops, cake shops, and bag
Anaheim, CA (PRWEB) July 18, 2017
In a city with a thriving baking culture, BakersBodega, a baking ingredient and supply superstore specializing in cake decorating, is set to officially join the community with the Grand Opening of their Anaheim location on July 22nd. The new store is located at 913 South Euclid Street, just outside Hermosa Village and less than two blocks away Disneyland Park and Resort. The event will offer a wide range of demonstrations, promotions, and lots of product tastings.
"Our customers have been asking us to open a store in Anaheim for years," said Armando Lopez, Co-Founder of BakersBodega. "Anaheim is a wonderful city. There is a such unique network of passionate bakers here of which I've never seen anything quite like. This new location is giving us convenient access to provide more than 600 local bakeries, donut shops, cake shops, and bagels joints with our products and services." Lopez relocated to Anaheim from San Diego back in 2016.
The new store, located within the Northgate Supermarket Shopping Center, will start with 10 employees, all of whom are experienced cake decorators. Since 2009, BakersBodega has been providing baking accessories and ingredients to both individuals and other businesses in Southern California. In addition to a wide selection of products, the company offers a curriculum of baking and dessert decoration courses for people of all backgrounds and skill levels.
Throughout 2017, BakersBodega has participated in the Los Angeles Cookie Con and Sweets Show, the biggest pastry convention on the west coast. They also took part in the San Diego Cake Show back in March. At the end of April, the crew took to the streets and raised money for the Autism Speaks Walk.
"This has been a big year for us," said Lopez. "Anaheim will be the second location we've opened in 2017, the first being in Escondido. Our goal is to keep expanding North towards West LA and San Fernando Valley. BakersBodega has always been about family for us. We feel that wherever we open a store, our baking family grows. We couldn't be more excited to see how it develops with the new store in Anaheim!"
BakersBodega operates 7 days a week.
Monday – Friday: 7AM to 7PM
Saturday: 8AM to 4PM
Sunday: 9AM to 1PM
For more information on the Grand Opening, please call 714.422.3434 or email info(at)bakersbodegaanaheim(dot)com.