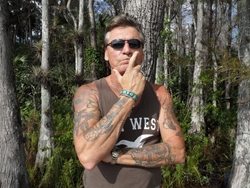 CWC is a high-quality treatment center dedicated to helping patients change their lives in a positive way.
Lantana, FL (PRWEB) July 19, 2017
Host of Recovery Radio Raw and certified interventionist Indian Bob has joined Comprehensive Wellness Centers of Lantana, FL (CWC) as Director of Community Relations.
Since his own recovery began in 2002 after a history of alcohol and drug abuse that dates back to the mid-1970s, Indian Bob has worked tirelessly to help others get treatment for alcoholism and drug addiction. As a certified interventionist, published author, radio host and frequent speaker at prisons and institutions, Indian Bob is uniquely qualified to help patients break the cycle of addiction.
This has become a rare quality in Florida's drug addiction treatment industry, which has had some problems with poor business practices and insurance fraud. Some Florida treatment centers focus on getting people in the door to overbill insurance companies for questionable counseling, costly drug screens and unnecessary laboratory tests.
"Scammers profit off of people during the lowest moments in their life – when they're at their most vulnerable," says Jason Tunick, Owner and CEO "CWC is a high-quality treatment center dedicated to helping patients change their lives in a positive way. We are proud to have Indian Bob, a renowned and trusted member of the addiction treatment community, join us in our efforts to raise awareness about finding excellent treatment centers and caring substance abuse professionals in Florida."
CWC is Joint Commission accredited, the highest standard in the healthcare field and delivers excellent quality of care and evidence-based treatment. CWC treats each person as an individual with different needs. The goal is to start patients on the road to recovery and help them get back control of their lives.
"Indian Bob shares our belief that it is imperative to educate the community, law enforcement, drug courts, doctors, hospitals, schools and treatment professionals about how to steer clear of scams and find a credible, respected alcohol and drug addiction treatment center in Florida," says Jason Tunick.
About Comprehensive Wellness Centers of Lantana, FL
CWC offers 24/7 supportive care to ensure wellness and safety throughout the addiction treatment process. The experienced CWC staff delivers the therapeutic care needed to work through the mental and emotional aspects of addiction. Services include individual, group and family counseling, behavioral modification, educational lectures and holistic therapies.
Media contact
Lucas Carneiro
Phone 800-844-HOPE ext. 205
lucasc(at)cwcrecovery(dot)com