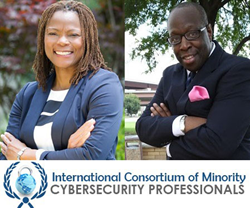 North Haledon, NJ (PRWEB) July 20, 2017
The International Consortium of Minority Cybersecurity Professionals (ICMCP) is pleased to announce the appointment of Mary Chaney as Vice President and David Elcock as Executive Director.
"The board is excited to have Mary and David amongst the ICMCP executive leadership," said Aric K. Perminter, President at ICMCP. "Their experience, knowledge of the organization, and vision for the future are vital to the organization as we work with our 1,500 members to strengthen and preserve services to underrepresented women and minorities in the fast-growing field of cybersecurity."
Ms. Chaney brings with her to ICMCP a wealth of experience within the cybersecurity industry, having spent over 20 years in the fields of information security, privacy, and risk management. She graduated from Xavier University in Cincinnati, Ohio, with her B.S.B.A. in Information Systems. She received her J.D. degree from Thurgood Marshall School of Law and is a licensed attorney in the State of Texas.
Ms. Chaney spent several years practicing law in Washington, DC, focusing primarily on antitrust and intellectual property rights infringement cases. She then transitioned to serve her country by becoming a Special Agent for the Federal Bureau of Investigation (FBI).
While with the FBI (Los Angeles), she investigated all types of cyber-related criminal activities, including denial of service attacks, computer intrusions, internet piracy, intellectual property theft, and copyright infringement. Ms. Chaney also served as the Information Systems Security Officer for the FBI in Los Angeles. Ms. Chaney obtained her Certified Information Systems Security Professional (CISSP) certification in 2008. In her corporate career, she has held senior level information security roles with Comcast, Johnson & Johnson, and GE Capital. Ms. Chaney has also held a post as an adjunct professor at the University of Cincinnati, where she assisted with the establishment of their Cybersecurity Certificate program.
"ICMCP provides the opportunity for professionals in cybersecurity to address the growing gap of talent by strategically supporting and developing women and minorities in the field. As a dual minority myself, I think it is fundamentally important to address both the talent gap and provide those already in the field with an organization that specifically addresses the many challenges women and minorities can face throughout their career progression. It was a natural decision to join ICMCP's leadership team and I look forward to serving the cybersecurity community," said Ms. Chaney.
Currently, Ms. Chaney is the CEO of MBS Information Security Consulting, LLC (MBS), where she specializes in assisting companies with developing holistic and business specific information security management programs.
David Elcock comes to ICMCP as the organization's Executive Director. He is a co-founder of Lynx Technology Partners, Inc., one of Inc. Magazine's fastest-growing private companies and ranked among the top US security companies for consecutive years. Mr. Elcock's track record spans three generations as a proven leader and team builder in both for-profit and non-profit enterprises.
In the non-profit sector, Mr. Elcock has held a variety of positions from General Manager to Board Member with The Enterprise Foundation, National Equity Fund, Access One Broadband and One Economy. His volunteer positions include Board Chairman & Treasurer for Mount Hope Housing Company, Board Treasurer, Morris Heights Healthcare Center, Operation Executive, Food for Survival, and Global Logistics Advisor for World Share.
According to Mr. Elcock, "National Security, Economic Workforce Development, and Corporate Social Responsibility are three extremely relevant issues impacting this generation. Addressing all three in one fell swoop is a major undertaking for any organization, let alone a two-year-old non-profit. Yet ICMCP's programmatic approach to addressing the shortage of women and minorities in information security, assurance, and cybersecurity is doing just that."
Mr. Elcock added, "ICMCP is committed to amassing, supporting and advocating for a talent roster of the best, brightest, and most skilled non-traditional cybersecurity practitioners found anywhere on earth. It's ICMCP's way of supporting our nation's cybersecurity interests. I'm philosophically and professionally in sync with ICMCP's mission and pleased to lend my talents to this undertaking."
About ICMCP
The International Consortium of Minority Cybersecurity Professionals (ICMCP) is a 501(c)(3) non-profit organization. It began official operations in September 2014 and is organized exclusively for charitable purposes, to provide members with educational/technical scholarships, mentoring opportunities, professional development, and networking opportunities. For more information or to become a sponsor, please visit https://icmcp.org/, follow @ICMCP_ORG on Twitter or visit the ICMCP LinkedIn page.