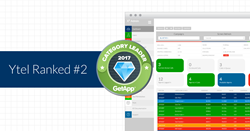 FOOTHILL RANCH, Calif (PRWEB) July 20, 2017
Ytel, a leading provider of communications software and embedded real-time communications solutions, was named a Category Leader for X5 Cloud Contact Center by GetApp. GetApp's quarterly ranking showcases the top 25 Call Center apps based in the cloud. X5 Cloud Contact Center ranked #2 overall.
The Call Center Category Leaders for Q3 2017 is based on 5 data points, each scored out of 20: reviews, integrations, mobile apps, media presence, and security. Amongst the top 25 contenders, X5 scored highest in system integrations due to it's ability to integrate with more than one hundred top software providers, in addition to its fully integrated built-in payment system.
"X5 Cloud Contact Center came in at 2nd place in this quarter's Category Leader ranking for Call Center, rising an impressive twelve places since Q4 2016. An integrations score of 17 and 14 points for both its mobile apps and media presence all added to a strong total score of 67, solidifying its spot as one of the leading Call Center solutions in the cloud," said GetApp Call Center Researcher, Rhiân Davies.
"X5 Cloud Contact Center is constantly adding and improving features and integrations to make it as user-friendly and robust as possible," said Ytel Chief Operations Officer, Brian Keep. "The growth and advancement from 2016 shows how innovative our software is, landing us in the top ranking."
To view the full list, please visit http://www.getapp.com
###
About Ytel (http://www.ytel.com)
Ytel® specializes in cloud-based B2B communications solutions, powering modern communications through voice, text, email and direct mail. Its SaaS-based offerings include Cloud Contact Center®, message360®, and sipPro™. Ytel supports billions of outbound and inbound interactions, on a company owned network, for the primary purpose of increasing revenue and maximizing efficiency for clients.
About GetApp (https://www.getapp.com)
GetApp is the leading vendor independent business applications marketplace, with a strong focus on SaaS and Cloud based apps. Review, compare and evaluate small business software with GetApp.