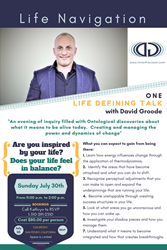 One of Groode's special gifts is to identify what is out of balance and not working in someone's life and to create a strategy of adjustments to bring their life back into balance
SAN PEDRO, CA (PRWEB) July 20, 2017
David Groode, known to many as an awakener, has provided intuitive readings and numerology for over 27 years. Now, the international phenom, who works with clientele around the globe, will bring his eye-opening insights to San Pedro. Groode will hold a stellar three-hour "Life Navigation" event on Sunday, July 30 in San Pedro from 11:00 a.m. to 2:00 p.m. The address and location will be provided once RSVP is made.
Groode continues to expand his work internationally during trips and on Skype with his global clientele. Groode's sessions are compelling and awakening, providing people on the go with clarity. He advises them on how they can shift their lives to stay on path, finding balance while they are busy creating their lives.
Through the Life Navigation Intuitive Coaching Sessions with Groode, people are able to be more effective in how they show-up for themselves, their lives and for the people they love. It empowers them to create their lives from a place of consciousness, taking full ownership of their lives and what they are creating. It provides people a greater ability to navigate their lives and the world with more grace, and ease to be plugged into their light on a consistent basis.
Groode also offers transformational events, unique workshops, consultations and life-changing spiritual journeys to places of power around the world. Groode has taken groups of people on spiritual journeys and retreats to power places and world heritage sites throughout the world to do deep inner work, healing and clearing for humanity, and for the planet.
One of Groode's special gifts is to identify what is out of balance and not working in someone's life and to create a strategy of adjustments to bring their life back into balance -- to help them manage their lives energetically on all levels -- physically, mentally, emotionally and spiritually.
To meet renowned international intuitive psychic and numerologist Groode and attend his "Life Navigation" workshop July 30 from 11:00 a.m. to 2:00 p.m. in San Pedro, RSVP by calling 310-291-2510. Groode will provide an afternoon of responses to inquiries filled with ontological discoveries about what it means to be alive today, creating and managing the power and dynamics of change.
During his stay in Southern California, Groode will be doing in-person private sessions. Groode will traveling through Los Angeles to Palm Springs. The Intuitive Sessions can be booked by contacting Kathryn at 1-310-291-2510.
Say connected with David Groode on Social Media Facebook InnerPrecision https://www.facebook.com/InnerPrecision 189512604458010/?ref=bookmarks on Twitter @innerprecision https://twitter.com/innerprecision on Instagram ArtbyDavidGroode https://www.instagram.com/artbydavidgroode/ on LinkedIn https://www.linkedin.com/in/innerprecision/
To learn more about upcoming events, seminars and to book personal sessions with David Groode, visit http://www.InnerPrecision.com
For Media Inquiries and Interviews, please contact YM & Associates PR | Marketing | Branding at YMoralesY(at)YM-PR(dot)com or call 949-244-9769.
Yvette Morales
YM & Associates
PR | Marketing | Branding
California | New York
Phone: 949.244.9769
YMoralesY(at)YM-PR(dot)com
@YMTheBevHillsPR
http://www.YM-PR.com