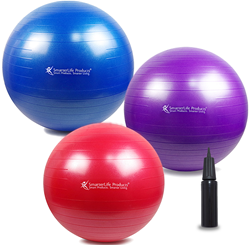 Every SmarterLife Exercise Ball undergoes stringent quality testing. Its 16P PVC rating means it is free of the harmful dust and toxic vapors caused by chemicals called phthalates. It also passed one of the world's strictest safety requirements for toys
Steamboat Springs, CO (PRWEB) July 25, 2017
SmarterLife Products® LLC has announced the expansion of its SmartSport Premium Exercise Ball product line with the addition of a new size option -- 45 cm -- and new color options for existing size models, which are now available for sale on Amazon.com.
The SmarterLife Products® SmartSport Premium Exercise Ball is an essential accessory for fitness enthusiasts, as well as individuals undergoing rehabilitation or physical therapy.
The SmartSport Premium Exercise Ball is offered in 3 sizes -- 55cm, 65cm, and 75cm -- and now adds a new smaller size -- 45cm. In addition, the 45cm and 55cm models are now available in 2 colors while the 65cm and 75cm models offered in purple and blue respectively.
Further expansion plans to be completed before the holiday shopping season will result in all 4 size models each being offered in a choice of up to 5 colors providing up to 20 combinations of size and color for customers.
SmarterLife Products developed the SmartSport Premium Exercise Ball in 2014 and introduced it to the marketplace in early 2015. It is distinguished from rival product offerings by its anti-burst and non-slip matte surface, ensuring a healthy, safe and fun user experience. Other features include a high quality hand pump, fool-proof inflation level measuring tape, ball plugs and a plug removal tool.
Co-Founder Tim DePuy, stated "Every SmarterLife Exercise Ball undergoes stringent quality testing. Its 16P PVC rating means it is free of the harmful dust and toxic vapors caused by chemicals called phthalates. It has also passed one of the world's strictest safety requirements for toys -- for the absence of 19 heavy metals. Personal and family well-being is our primary concern so we make sure that our products are safe for the environment and safe for every member of the family to enjoy."
The SmarterLife Products® SmartSport Premium Exercise Ball is available for purchase on Amazon.com and for a limited time is being offered at a promotional discount. Included in the box is the SmarterLife Products® SmartSport Premium Exercise Ball, hand pump, inflation measuring tape, 2 ball plugs, ball plug removal tool, an easy-to-follow instruction guide, set of 10 exercises suitable for new and advanced users alike, and a bonus eBook "The 7 Secrets to Your Ideal Body".
Based in Steamboat Springs, CO, SmarterLife Products® [Facebook: https://www.facebook.com/SmarterLifeProducts/ sources or creates the very best eco-friendly fitness & health, travel, and lifestyle products for people who want to live smarter. The company was started when co-founders Jan & Tim DePuy realized that it was hard to find purposefully-made items that were good for people and good for the environment. While available in the marketplace, no one had brought them together into one place, which was the impetus for the creation of the company.