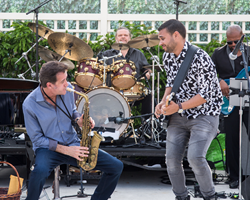 "For more than 19 years, Eric Marienthal and Friends Jazz Concert has played an integral role in raising the funds needed for High Hopes Brain Injury Program' - Mark Desmond, Director/Instructor and Developer of High Hopes Brain Injury Program.
Newport Beach, CA (PRWEB) July 21, 2017
High Hopes Brain Injury Program, a non-profit organization, hosted the 19th Annual Eric Marienthal and Friends Jazz Concert for over 1000 guests on July 9 at the Hyatt Regency Newport Beach. This event is the one of the largest fundraisers for the nonprofit who is dedicated to helping individuals recover from traumatic brain injuries.
VIP guests enjoyed a dining experience catered by the Tulsa Rib Company, a hosted bar and entertainment by the Ron Kobayashi Trio with special guest artist, singer and songwriter, Mary Desmond. After the VIP dinner, guests and concert goers moved to the Hyatt's outdoor amphitheater. 94.7FM The Wave Radio Host Talaya Trigueros served as Master of Ceremonies along with Mark Desmond, Director/Instructor and Developer of High Hopes Brain Injury Program.
"For more than 19 years, Eric Marienthal and Friends Jazz Concert has played an integral role in raising the funds needed for High Hopes Brain Injury Program, including the purchase of a REO-Robotic Arm Machine and AMANDO Robotic Hand Machine which are an integral part of rehabilitation for our students and made possible from funds received from this event", said Desmond. "This year, we hope to purchase the ANDAGO – a first of its kind mobile robot that provides safe, mobile and versatile training for independent living and an Electro Eqviscope that utilizes artificial intelligence to detect and deliver a corrective signal to promote healing and accelerate recovery time".
Eric Marienthal took the stage and thrilled the audience with his amazing talents and stellar performance, garnering him the name of Mr. Saxophonist. Marienthal started his professional career in 1980 with famed New Orleans trumpeter Al Hirt then became a member of the Chick Corea Elektric Band He recorded five L/P's with Corea and won two Grammy Awards. Marienthal has performed with artists such as Elton John, Barbara Streisand, Stevie Wonder, David Lee Roth and many others and has chaired this event the past 19 years for High Hopes raising over $1.5 million dollars.
Marienthal's had two special guests appear with him during the concert; Oleta Adams and David Benoit. Benoit, three-time Grammy Award nominee played such hits as Dave Brubeck's "Blue Rondo a la Turk" along with his originals "Freedom at Midnight", "Keis Song" and "Drive Time". Adams, a Grammy nominee and two-time Soul Train Award nominee then wowed the crowd with Brenda Russel's hit "Get Here" as well as "New York State of Mind" and "Feeling Good". Both artists had the audience on their feet wanting more. Marienthal's all-star band consisted of Adam Hawley on guitar, Mitch Forman on keyboards, Ramon Yslas on percussion, Joel Taylor on drums and Nathaniel Kearney, Jr. on bass.
The event raised almost $150,000 which included the silent and live auction. Highlights of the live auction included a 2018 Smooth Jazz Cruise to Belize, Costa Maya, Cozumel and The Bahamas for two; a four night stay at the Fairmont Chateau Lake Louse (Alberta) with airfare for two; a Napa Valley Epicurean Adventure with cooking classes, farmers market tours, a 3-course lunch with wine pairings, gourmet dinner on the Napa Valley Wine Train and 3 nights at the Meritage Resort and Spa; a Diamond Necklace retailed at $4500 with a total of 1.90 caret diamonds; The Ultimate Hamilton Experience with dinner at Roy's Restaurant and four tickets to the musical "Hamilton"; Sunday Brunch and for six at Spaghettini's with 94.7 The WAVE and a Wine Wall with 24 bottles of fine wine and many more.
Sponsors for the evening included Mr. Robert Homan, Xerox, H & H Lee Foundation, Citi Bank, Hyatt Regency Newport Beach, 94.7 The Wave, Lincoln Consulting Group, Minuteman Press in Costa Mesa, Smooth Jazz Cruise, KSBR Radio 88.5FM and Tom and Dani White of Early Years Motocross Museum.
Established in 1974, High Hopes Brain Injury Program is a one-of-a-kind non-profit charitable organization dedicated to the rehabilitation and retraining of those who have been devastated by brain injuries. The program at High Hopes is unique as their physical programs include conditioning classes, therapeutic swimming, nautilus weight training, physical therapy and rehabilitation activities for cognitive and social challenges. Other services include vocational art classes, pre-vocational training, music classes, community activities, independent living classes, occupational therapy and speech therapy. High Hopes' goal is to provide the best and lowest cost program to those who have traumatic head injuries giving them a sense of hope.
For more information, visit High Hopes at http://www.HighHopesBrainInjury.org and follow High Hopes on Facebook at High Hopes Brain Injury Program and Instagram at High Hopes Tustin CA.
For media inquiries and interviews, please contact Kelly Bennett of Bennett Unlimited PR (949) 463-6383 or kelly(at)bpunlimited(dot)com.