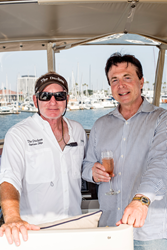 Los Angeles, CA (PRWEB) July 21, 2017
On Sunday July 9th, award-winning radio journalist and voice of Los Angeles business news, Frank Mottek, celebrated the first anniversary of his popular radio show, Mottek on Money, with a star-studded media cruise aboard The Duchess Yacht that cruised around Marina Del Rey Harbor.
Mottek commemorated his show's anniversary on the 63 foot yacht, The Duchess (https://www.theduchessyacht.com/), with champagne and chocolate cake.
Mottek on Money is a weekly update on the big stories affecting money plus a preview of the week ahead in money news. From Wall Street to your street, anchor Frank Mottek covers the big stories affecting Southern Californian's money. Featuring interviews, perspective and commentary, Mottek on Money is the one show to hear to become a smarter consumer.
Attending the party were guests and close friends, including 16 time Emmy Award Winner for KTTV's Fox 11 News Christine Devine, KTLA's Christina Pascucci and Cher Calvin, award winning radio journalist Bob Brill, public relations and media expert Michael Levine and many others.
As the voice of business news, Los Angeles, Mottek provides business, consumer and financial news to millions.
"I've known Mottek for 25 years, and he is one of the hardest workers I know," says Christine Devine.
Duchess Yacht Captain Skip Rutzick says, "I've been a long time huge fan of Mottek and it was an honor to have him on The Duchess Yacht."