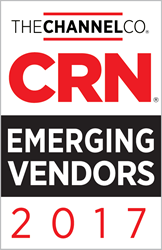 "We have worked closely with our customers and partners throughout the world to identify the most critical and needed UEBA security products and embedded tools" said Idan Tendler, founder and CEO at Fortscale.
San Francisco California (PRWEB) July 24, 2017
Fortscale Security Ltd. the pioneer in embeddable behavioral analytics, announced today that CRN®, a brand of The Channel Company, has named Fortscale Security to its 2017 Emerging Vendors list in the Security category. This list recognizes recently founded up-and-coming technology suppliers that are shaping the future of the IT channel through unique technological innovations. In addition to celebrating these standout companies, the Emerging Vendors list serves as a valuable resource for solution providers looking to expand their portfolios with cutting-edge technology. This year, for the first time, the list is divided into seven categories: Cloud, Data Center, Security, Big Data, Networking/VoIP, Internet of Things and Storage.
Fortscale's award-winning UEBA (User and Entity Behavior Analytics) solutions combine advanced machine learning and big data analytics to provide rapid detection and response to malicious user behaviors that truly matter—with an eye toward thwarting and preventing headline-grabbing data breaches.
Fortscale Presidio, the industry's first embedded UEBA engine, delivers visibility and risk-based analysis that organizations need to make better, smarter, security decisions. Presidio enables SIEM, EDR/EPP, DLP, CASB, IAM and other security infrastructure vendors to quickly and easily incorporate UEBA technology within their own products. By embedding Presidio, security vendors provide their customers with real-time, risk-based intelligence on the activity of users and entities within their environment. This dramatically enhances their analysis and security enforcement capabilities.
Fortscale's adaptive, multi-dimensional approach, unmatched user intelligence, and easy-to-use investigation tools give security teams an ever-increasing degree of context and accuracy to enable simpler, smarter security operations.
"This impressive group of technology supplier startups is already disrupting the status quo, aggressively creating and innovating to meet the ever-changing demands of the IT market," said Robert Faletra, CEO of The Channel Company. "CRN's 2017 Emerging Vendors represent the next generation of IT change agents, producing a wide range of leading-edge products that solution providers should keep an eye on in the coming year and beyond."
"We are delighted to be named to CRN's 2017 list of emerging vendors," said Idan Tendler, founder and CEO at Fortscale. "We have worked closely with our customers and partners throughout the world to identify the most critical and needed UEBA security products and embedded tools. Our engineers and team members have done an outstanding job developing these offerings, and we are thrilled that CRN has recognized these achievements."
The Emerging Vendors: Security list will be featured online at http://www.crn.com/emergingvendors.
Follow The Channel Company: Twitter, LinkedIn and Facebook
Tweet This:
@TheChannelCo names Fortscale Security @Fortscale to @CRN 2017 Emerging Vendors list #CRNEV http://www.crn.com/emergingvendors
About Fortscale Security Ltd.
Fortscale provides real-time visibility into the actions of users and entities in your environment and uncovers insider threats by identifying unusual behaviors that pose a risk to your business. Combining predictive, big data analytics and advanced machine learning, the Fortscale User and Entity Behavioral Analytics (UEBA) engine can be deployed as a stand-alone solution optimized for security operations centers (SOCs) or natively embedded in security infrastructure solutions – SIEM, EDR, EPP, CASB, DLP, IAM – to improve risk analysis and decision-making. Upon deployment, Fortscale starts processing user and entity data from throughout your security infrastructure, autonomously modeling behaviors, and quickly and accurately identifying anomalous, risky activity to uncover insider threats. Backed by Intel Capital, Blumberg Capital, Swarth Group, CME Ventures, Evolution Equity and Valor Capital, Fortscale's insider threat solution lowers analyst stress-levels and improves your security posture overall.
For more information, visit http://www.fortscale.com
About The Channel Company
The Channel Company enables breakthrough IT channel performance with our dominant media, engaging events, expert consulting and education, and innovative marketing services and platforms. As the channel catalyst, we connect and empower technology suppliers, solution providers and end users. Backed by more than 30 years of unequaled channel experience, we draw from our deep knowledge to envision innovative new solutions for ever-evolving challenges in the technology marketplace. http://www.thechannelco.com
©2017. The Channel Company, LLC. CRN is a registered trademark of The Channel Company, LLC. All rights reserved.
Channel Company Contact:
Melanie Turpin
The Channel Company
(508) 416-1195
mturpin(at)thechannelco(dot)com