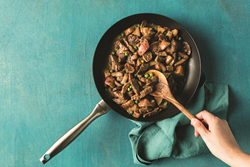 Omaha, Nebraska (PRWEB) July 25, 2017
Omaha Steaks®, a fifth generation family-owned company and the nation's leading provider of exceptional steaks and premium gourmet foods, announced today the launch of 15-minute Skillet Meals to their already popular meal offering.
The new meals will be available beginning August 1. To celebrate the launch, the company is offering Dinner for $1. Customers looking for a quick high quality dinner solution can stop by one of Omaha Steaks 70 retail stores across the country to pick-up one of their new Skillet Meals on August 1 for only $1, limit one per customer while supplies last.
"These chef inspired meals include everything you need to make a quick gourmet dinner at home. They're ready to go from freezer to table in 15 minutes or less. The speed of preparation is unbeatable. You just add the bag of premium ingredients to your skillet, defrost the sauce pouch, stir and serve," said Todd Simon, Senior Vice President and Family Owner of Omaha Steaks. "They include a variety of global flavors using the high-quality ingredients customers expect from Omaha Steaks, backed by our 100 percent guarantee."
The new Skillet Meals expand Omaha Steaks current meal offering, providing consumers with high-quality, frozen, ready-to-cook meals that can go from freezer to table in 15 minutes or less. The new Omaha Steaks Skillet meals, which will be available on OmahaSteaks.com, include:

Asian Pepper Steak- Tender Omaha Steaks beef tips sliced thinly and sautéed with fire-roasted tri-color peppers and onions with a savory-sticky-sweet-peppery Chinese-style sauce, all served over jasmine rice.
Italian Chicken Piccata- Tender all-white meat chicken lightly battered and cooked in a creamy lemon piccata sauce with roasted portabellini mushrooms on a bed of al dente Mafalda pasta. Capers add a briny, salty touch to the dish to balance the acidity of the lemon, while a pinch of red pepper flakes adds just a touch of heat.
Indian Chicken Curry- Roasted chicken breast tenders sautéed in an Indian-style yellow curry sauce made with lemongrass, galangal, coriander, kaffir lime, garlic, cardamom, and coconut milk. More color and texture comes from the addition of carrots, tender peas, red pepper, and roasted red potatoes. Served over long-grain rice.
Moroccan Beef- Omaha Steaks tender beef tips in a zesty Moroccan-style harissa sauce with caraway, chili pepper, cumin, coriander, and garlic sautéed with chickpeas, chopped sweet potatoes, red pepper, onions, and golden raisins for the perfect spicy-sweet blend. Served over simple-to-steam pearled couscous.
Tempura Orange Chicken- Juicy chunks of premium chicken breast lightly tempura-fried and splashed with a bright, tangy, citrus-infused sauce. Sautéed with edamame, carrots, red peppers, water chestnuts, and fire-roasted onions and served over perfectly steamed jasmine rice.
Steak au Poivre- Omaha Steaks steak tips coated in a sauce with loads of fresh-cracked black pepper, real French brandy, and butter, sautéed with roasted red potatoes, roasted marinated portabellini mushrooms, fire-roasted onion, tender green peas, and finely chopped shallots.
This follows the launch of Omaha Steaks Crock-Pot® Meals earlier this year, both meal solutions are specifically designed to make preparing high-quality family meals convenient and easy. The new Omaha Steaks Skillet meals broaden Omaha Steaks meal offering, which already includes premium beef, poultry, pork and seafood, as well as delicious side dishes, desserts and appetizers.
"With all of our meal options we've not only eliminated the need to spend time shopping for ingredients and preparing the meal, but also relieved the pressure some families feel to use up ingredients expiring in the fridge, or rush to prepare meal kits from subscription services before they go bad," Simon said. Omaha Steaks meals can be ordered on demand, stored in the freezer, and are available without signing up for a subscription service.
The company plans to continue to expand the Omaha Steaks meal offerings with additional meal options later this year. "Due to the overwhelming response that we continue to see with our meals we plan to continuously develop new and exciting flavors," Simon added.
These products will be available exclusively through Omaha Steaks who will market the collections online and at its 70+ retail locations nationwide. For more information about Omaha Steaks' new meals, visit http://www.OmahaSteaks.com.
About Omaha Steaks
Omaha Steaks, founded in 1917, is an Omaha, Nebraska-based, fifth-generation, family-owned company that markets and distributes a wide variety of the finest quality USDA-approved, grain-fed beef and other gourmet foods including seafood, pork, poultry, side dishes, appetizers, complete meals and desserts. Today, Omaha Steaks is recognized as the nation's largest direct response marketer of premium beef and gourmet foods, available to customers by calling 1-800-228-9055, online at http://www.OmahaSteaks.com or at retail stores nationwide.