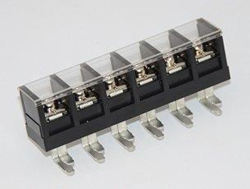 The new OTB Series High Power PCB Blocks feature heavy-duty terminals for superior PCB mounting strength.
Elk Grove Village, IL (PRWEB) July 24, 2017
BlockMaster's new High Power terminal blocks are rated 600 Volt and 115 Amps and have been designed for PCB applications.
The new OTB Series barrier-style terminal block models OTB-910-M/ML and OTB-910-B/BL offer a choice of 2 through 17 poles, allowing termination of up to 115 Amps per position. Available with or without mounting ears, the PC terminals on the OTB Series blocks are offered straight (M or B) or with a right-angle (ML or BL). They accommodate wire sizes between 22 and 2 AWG. These products feature very heavy-duty dual PC terminals for superior PCB mounting strength.
The new OTB Series PCB Terminal Blocks are ideally suited for use with the following applications:

Power Supplies
Back Planes
Motor Controls
Industrial Water Pumps
Industrial Controls
CNC Machines
All OTB Series High Power Terminal Blocks comply with UL and CSA Standards, as well as RoHS, and feature:

Rated: 600 Volts, 115 Amps
Color: Black
Operating Temperature: -25° C to +90° C.
Housing: Polycarbonate (UL94V-2)
Cover: Polycarbonate (UL94V-2)
Terminals: Brass, Tin, Nickel
Screw Size: m5 steel, Nickel-plated
Withstanding Voltage: AC 2,500 V
Insulation Resistance: AC 2,500 V
For more product information, as well as price and delivery, visit http://www.blockmaster.com or call BlockMaster at 847-956-1680. BlockMaster's new Towers of Power Catalog of High Power Terminal Blocks is also available on this website.
About BlockMaster Electronics, Inc.
BlockMaster Electronics has provided innovative interconnect and terminal block solutions to electrical and electronic OEMs since 1994. The company has low-cost, high-quality manufacturing capabilities and can provide reliable products from stock.
A distinct competitive advantage that BlockMaster offers its customers includes the ability to make modifications in-house to its terminal blocks based on customer requirements. BlockMaster's Value-added Center provides the ability to fabricate, modify and print legends on our blocks at our Illinois facility for quick turnaround.
BlockMaster Electronics manufactures terminal blocks from 1 to 400 amps, including PCB styles up to 130 amps. The company offers over 9,500 P/Ns including PCB, Feed-through and Power Distribution types. BlockMaster's Value-added Center can also provide quick turn around on prototypes.