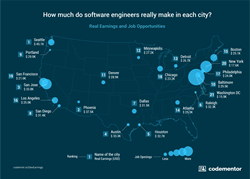 San Francisco, California (PRWEB) July 26, 2017
A recent study by Codementor analyzed the purchasing power of software engineers across 21 major U.S. cities. Cities were ranked according to the "real earnings" of software engineers. The top cities for software engineers are Seattle, Phoenix, and San Jose; the last three cities are San Francisco, New York, and Washington D.C.
To calculate real earnings, income is deducted by costs and expenses, such as taxes, social security, living costs, and rent. The findings are based on data from Glassdoor, Numbeo, IRS, and KPMG. One of the most influential factors that affect the real earnings in U.S. cities is rent, as living costs were similar across the surveyed cities.
Other key findings include:

Seattle is the #1 city for software engineers, with the highest real earnings of $45,182
San Francisco has the highest rent at $3,272 per month, and ranks 19 out of 21 in the U.S.
Washington D.C. has the most job openings, but is the worst city in terms of real earnings compared to other U.S. cities surveyed
As a whole, U.S. cities averaged better than international cities, which were also included in the study. Outside the U.S., software engineers from Tel Aviv, Berlin, and Canada have the highest real earnings, while London, Singapore, and China have the lowest real earnings. The full study can be found here.
About Codementor
Codementor is an on-demand marketplace for software developers. Codementor's network of 5,000+ expert developers from around the world provide on-demand help and long-term mentorship for developers, ranging from individual beginners to experienced engineers at Fortune 500 companies. Businesses can hire top developers for freelance projects via CodementorX. Learn more about Codementor at https://www.codementor.io