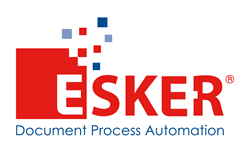 The ease of use and flexibility of their solutions offered something that other companies didn't — the potential to grow and address further pain points within our company.
MIDDLETON, Wis. (PRWEB) July 26, 2017
Esker, a worldwide leader in document process automation solutions and pioneer in cloud computing, today announced it is working with Potter Electric Signal Company, LLC, a leader in fire sprinkler monitoring and fire alarm systems, to automate its accounts payable (AP) process.
Potter Electric selected Esker's cloud-based Accounts Payable automation solution for its user-friendly interface, customizable dashboards and reporting tools after researching four different vendors, including Esker. Employing two Full-Time Equivalents (FTEs) to hand-key invoice information, resources were stretched thin and the company was considering adding a third FTE. The company will soon be able to electronically process invoices of all formats (e.g., email, postal mail, etc.) through a single platform without adding headcount.
Getting the most out of automation
Running Epicor 9, Potter lacked three-way matching capability — leaving employees to manually match invoices to receipts to purchase orders (POs). With Esker, this manual work is eliminated and staff focus is moved to more value-added tasks like taking advantage of supplier discounts.
"When we initially calculated our expected ROI from Esker, we never factored in the impact of the solution's customizable reports and cash forecasting capabilities," said Elizabeth Cassady, corporate controller at Potter Electric Signal Company, LLC. "Now that we see the opportunity to maximize purchase discounts and view and share essential data, we hope that will be the cherry on top."
Looking to the future was a consideration of Potter Electric's when deciding on a vendor. With Esker's suite of solutions, it is possible for the company to further its automation initiative to other processes such as accounts receivable and sales order processing.
"Once we implement Esker's Accounts Payable solution, we can pursue automating other processes with Esker as well. The ease of use and flexibility of their solutions offered something that other companies didn't — the potential to grow and address further pain points within our company," said Neal Ford, application support specialist at Potter Electric Signal Company, LLC.
About Potter Electric Signal Company, LLC
Established in 1898, Potter Electric Signal Company produces a wide array of products proudly assembled in the USA, including fire sprinkler monitoring systems, nitrogen generators, corrosion monitoring/testing, electronic fire systems, vault and safe security systems, and boiler/chiller and industrial control products. At Potter, not only does the company supply customers with products that provide real world solutions for their unique needs, it strives to provide them unequaled service and technical support. Every employee at Potter is committed to provide the very best product and service available for the protection of life and property. Potter is the symbol of protection.
About Esker
Esker is a worldwide leader in cloud-based document process automation software. Esker solutions, including the acquisition of the TermSync accounts receivable solution in 2015, help organizations of all sizes to improve efficiencies, accuracy, visibility and costs associated with business processes. Esker provides on-demand and on-premises software to automate accounts payable, order processing, accounts receivable, purchasing and more.
Founded in 1985, Esker operates in North America, Latin America, Europe and Asia Pacific with global headquarters in Lyon, France and U.S. headquarters in Madison, Wisconsin. In 2016, Esker generated 66 million euros in total sales revenue. For more information on Esker and its solutions, visit http://www.esker.com. Follow Esker on Twitter @EskerInc and join the conversation on the Esker blog at blog.esker.com.