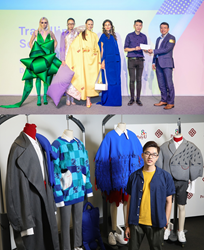 (PRWEB) July 26, 2017
Twenty-five graduating students at the Institute of Textiles and Clothing (ITC) of The Hong Kong Polytechnic University (PolyU) featured their creative designs at the PolyU Fashion Show 2017. The annual show is one of the most highly anticipated events in the local fashion industry, in which the latest young generation fads are expressed through budding designers nurtured by ITC, the leader in fashion and textiles education as well as research in the field in the region.
The 25 collections, each comprising four outfits, have received wide acclaims for displaying, in particular, passion and daring spirit. The award winning collections by Jason Wong and York Yip are typical examples.
Challenging "garment" concepts by dressing bodies with objects
Jason's designs, themed "Object> Garment> Object", challenged the definition of "garment" and snatched the Overall Grand Award. By transforming and incorporating daily-life objects — doors, mattresses, gift bows and dishwashing gloves — into wearable outfits, he attempted to challenge the usual perception of "garment" and bring in more interesting, artistic and novel alternatives into fashion design.
Describing his designs as "a living experiment", Jason said "We have all sorts of stereotypes in daily life, just like our fixed views of the forms or uses of archetypal everyday objects such as a door or a gift bow. Through my designs, I also attempt to convey the idea of opening up alternatives through transcending barriers of culture, age and gender."
The daring creativity, detail-mindedness, skills and persistence nurtured by Jason's four-year studies with ITC contributes to his winning design. This is evident in his "ribbon bow" dress, in which a small object is expanded in the right proportion, with every bending angle measured and calculated carefully. The "mattress" dress is refined by the weight of cloth chosen and the special sewing skill applied.
Turning designer frustration into humorous fashion
York's collection "Fxxkshion", presented his tough design experience in a humorous way and won him the Outstanding Menswear Award.
"In our design process, we face a lot of pressure and frustration. Our emotions always linger between feeling hopeful and being frustrated. I thus used the design, resembling the deflating process of a balloon, together with colour patterns and iconic images, to illustrate a fashion designer's feelings," said York. "Yet, we designers also enjoy working hard to achieve a good outcome."
To achieve a "perfect" outcome, York experimented using different materials in creating a ball-shaped blazer – the central element in his "Fxxkshion" concept. "I kept exploring and after months of trial and error, I found a firm yet elastic material fit for my design with which I used a different tailoring technique to create a round-shaped jacket," said York.
To view more designs by PolyU students, and more information about the PolyU Fashion Show 2017, please visit:- https://goo.gl/br9BSF or Facebook page:- https://www.facebook.com/pg/PolyUFashion