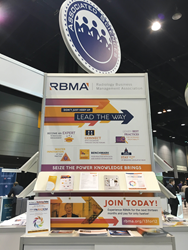 We are on the cusp of a new era, and as an Associated Sciences Consortium member organization, the RBMA is proud to help RSNA attendees better understand the many business, patient safety and practice management concerns they are likely to face in the future
Fairfax, VA (PRWEB) November 02, 2017
How current trends will shape the future of radiology will be brought into sharper focus at this year's Radiologic Society of North America (RSNA) meeting in Chicago from Nov. 26 to Dec. 1. As in past years, the meeting will include two days of interactive sessions on some of the hottest of these topics sponsored by the 11 organizations that make up the Associated Sciences Consortium, including the Radiology Business Management Association (RBMA).
Starting on Monday, Nov. 27 and continuing through Tuesday, Nov. 28, the Associated Sciences Courses will cover practice management and clinical issues including:

Enterprise radiation dose management
Trends in MRI fusion techniques
Medicare Quality Payment Program
Imaging services planning
Scope of practice issues for radiographers and radiological technologists
Consumerism in healthcare
Data security and hacking
Family-centered care practices for improving outcomes
"Radiology is changing rapidly due to both tremendous technological advancement and new understandings of how to create better value and outcomes for patients," said Patricia A. Kroken, FACMPE, CRA, FRBMA, the RBMA's member liaison with the RSNA. "We are on the cusp of a new era, and as an Associated Sciences Consortium member organization, the RBMA is proud to help RSNA attendees better understand the many business, patient safety and practice management concerns they are likely to face in the future."
The courses are each 90 minutes in length and structured as interactive sessions with one to two moderators plus leading experts on each of the topics. Among this year's moderators, speakers and panelists are Kroken, along with leading RBMA members and educators Claudia Murray, RCC, and Melody W. Mulaik, MSHS, CRA, RCC, CPC, CPC-H.
The Associates Sciences sessions will take place at the McCormick Place convention center in Chicago, where the rest of the RSNA meeting courses are also being held. Attendees can earn continuing education credits as the courses have been approved for AMA PRA Category 1 Credit™. In addition, RSNA is an AART®-approved Recognized Continuing Education Evaluation Mechanism Plus (RCEEM+) and will provide Category A+ continuing education credits for technologists and radiologist assistants.
The Associated Sciences Consortium workgroup was formed in 1980. The 10 other current Associated Sciences Consortium members are:
1. AHRA: The Association for Medical Imaging Management
2. American Institute of Architects-Academy of Architecture for Health (AIA-AAH)
3. American Society of Radiologic Technologists
4. Association of Educators in Imaging and Radiologic Sciences, Inc (AEIRS)
5. Association of Vascular and Interventional Radiographers (AVIR)
6. Canadian Association of Medical Radiation Technologists (CAMRT)
7. College of Radiographers (CoR)
8. International Society of Radiographers & Radiological Technologists (ISRRT)
9. Section for Magnetic Resonance Technologists-International Society for Magnetic Resonance in Medicine (SMRT-ISMRM)
10. Society of Nuclear Medicine and Molecular Imaging Technologists Section (SNMMI-TS)
About RBMA
The Radiology Business Management Association is a national not-for-profit association providing members with applied business information and intelligence applicable in any radiology setting. The RBMA has approximately 2,300 members involved in various management capacities in private practices, academic radiology groups, imaging centers and hospitals. The RBMA continues to be recognized as the leader for radiology-specific educational programs, products and services, publications and data.