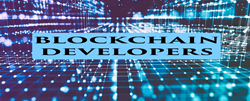 There is a frenzy. Companies are seeking to adopt blockchain technology for numerous reasons, but primarily it is to design their own token on the Ethereum blockchain
New York, NY (PRWEB) July 28, 2017
BlockchainDevelopers.org recently launched specifically to supply the current demand for ERC20 standard token creation and crowdsale services. There is currently a strong demand for smart contract developers that code on the Ethereum blockchain. Dean Anastos and Jagdeash Sookpaul has teamed up and hired a team of blockchain developers in New York City that will provide the software developing infrastructure clients will require for their specific decentralized applications on the Ethereum blockchain. Dean Anastos has founded several different companies including Apollo Financial Group and Mortgage Float which are companies that both deal with mortgages in the secondary market. Jagdeash Sookpaul, CEO of Business Technology Services, has been in the computer industry for several decades, his background in network security and server administration will provide additional support internally and for client specific applications.
"There is a frenzy. Companies are seeking to adopt blockchain technology for numerous reasons, but primarily it is to design their own token on the Ethereum blockchain. That is exactly what we could do for them." said Dean Anastos.
The services at BlockchainDevelopers.org will primarily be targeted specifically for companies looking to do their own ICOs, also known as token launches. The company will not only provide support on the software side, but also on the business development and marketing side. They will essentially become the ICO, or token launching division of the company. Their services will help companies emulate other ICOs that have raised millions of dollars on the Ethereum blockchain.
Dean Anastos recently lost his mother to glioblastoma, the most aggressive form of brain cancer. He intends to continue his brain cancer awareness campaigns even with this new venture.
"No matter how many projects I take on, I will always make time to give back to the community in the form of promoting brain cancer awareness." He added.
Blockchain Developers can be found at http://www.blockchaindevelopers.org or reached by email at info(at)blockchaindevelopers(dot)org